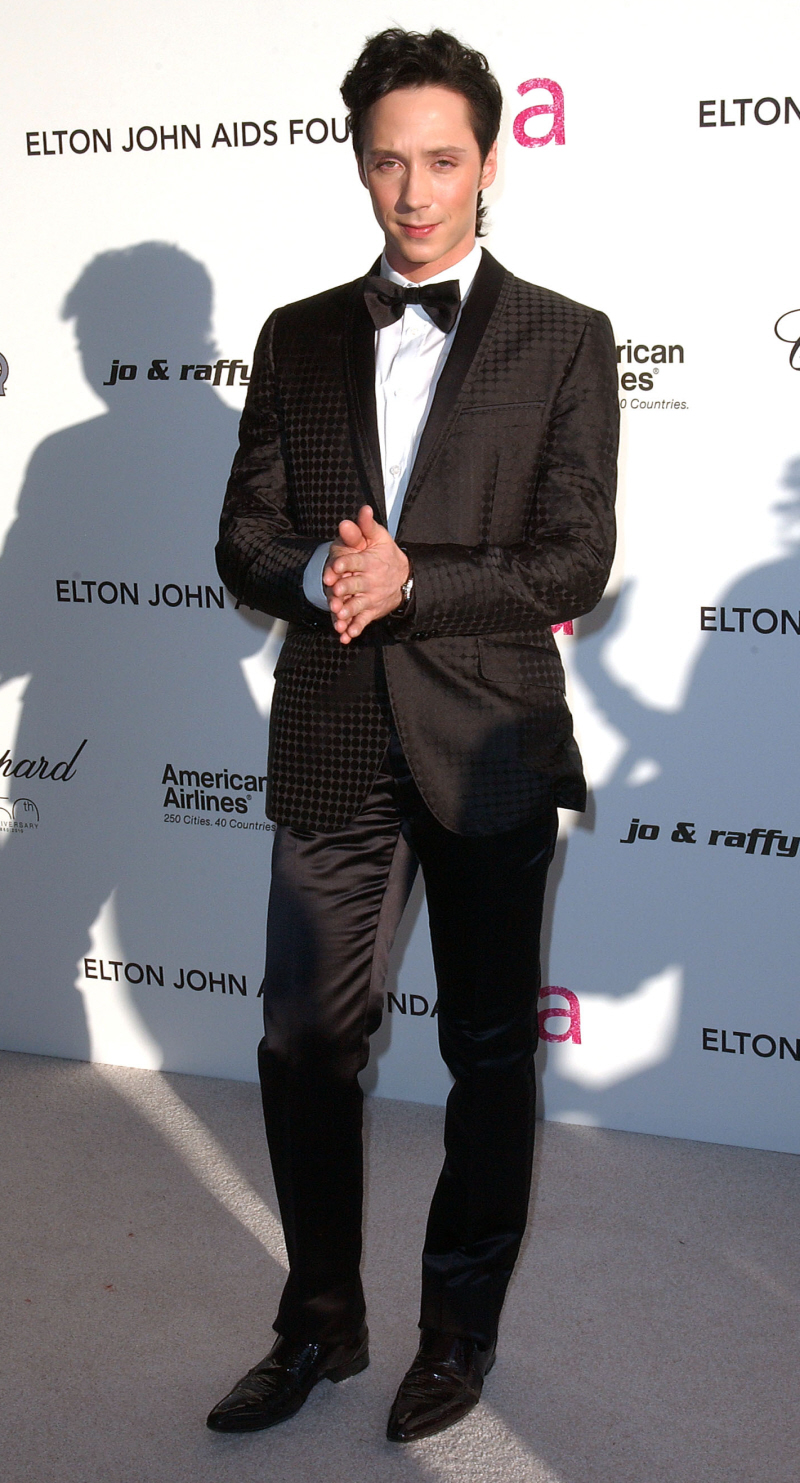 I know it seems like we've got a lot of gay-issued themed posts today (see this and this and this – haha, I got you to click on Mel Gibson!), but this one I just had to do. Because this one is about my gay boyfriend Johnny Weir. Apparently, Weir is not good enough to appear on "Stars on Ice". Not that he can't ice skate – I mean, the bitch can ice skate! No, Johnny's problem seems to be that he's viewed as "not family friendly". Because, you know, he's Johnny "I rock the pink tassel" Weir and apparently people who pay to go to ice skating tours don't realize that many of these men are gay? Here's more from Gawker:
That would be ironic. GLAAD says the Lady Gaga-loving Olympian was excluded from the money-raking figure skating tour because he is "not family friendly." GLAAD blogger Lauren Mattia writes, "GLAAD has learned from a source that wishes to remain anonymous that sponsors of the Stars on Ice Tour, which include Smuckers and IMG Entertainment, have refused to allow 3-time US National Champion and 2-time Olympian Johnny Weir to participate because they claim that he is "not family friendly."

"To say that Weir is "not family friendly" would be a clear jab at his perceived sexual orientation. Weir is extremely involved with his family. He is putting his younger brother through college, and supports the family financially because his father's disability prohibits him from working. […] Weir's performance and costume style is sometimes considered flashier than those of other skaters, leading to questions about his perceived sexual orientation."

GLAAD's post doesn't specify whether Weir was invited or had an interest in joining the Stars on Ice tour, which will feature teammate and Olympics gold medalist Evan Lysacek, no-longer-competing Sasha Cohen, and Japan's Miki Ando. Weir has said he's taking a break from performing to train privately, and has yet to comment on GLAAD's claim. Stars on Ice also has yet to comment, though we've invited their spokeswoman (and Johnny's) to comment.
[From Gawker]
This isn't the first controversy regarding people's reactions to Weir's perceived sexuality. During the Olympics, Canadian commentators made "jokes" about how Weir was probably a woman, after which Weir gave one of the most brilliant press conferences about his (or anyone else's) sexuality ever. Weir basically told the world, "Look, I am who I am, I'm not out to censor anyone or get anyone fired, but this isn't cool because there are kids out there who need to grow up in a world where they feel safe to be who they really are."
Now, as for the actual issue of Weir appearing on "Stars on Ice"… well, we don't even know if Weir would want to go. He's been popping up all over the place lately, and he's definitely going to be around as a "celebrity" for a while, I think. There was some talk over at Gawker that Weir might make more money if he does European and international gigs, rather than just skate stateside, but I have no idea about those markets. We'll see. Honestly, I'm fully expecting him to begin designing clothes and show up in a Lady Gaga music video any day now.
UPDATE: Johnny Weir has confirmed the speculation, telling Access Hollywood (via Towleroad): "It's for real. All because I am not family friendly enough. I understand I am a little outrageous but I wish I could perform for the fans…Maybe right now, just artistically and creatively, I'd love to have my own show, with musical acts, like maybe getting Lady Gaga! I don't like to think there are any boundaries. Anytime you get men in glitter it's flamboyant!" Bless his heart. I love him for his positivism. If I was Weir, I would have been like, "Dude, we're ice skaters. All of us love glitter and sparkles and being fabulous, that's why we became ice skaters! And if that isn't family friendly, then you need to suck my big glittery d-ck."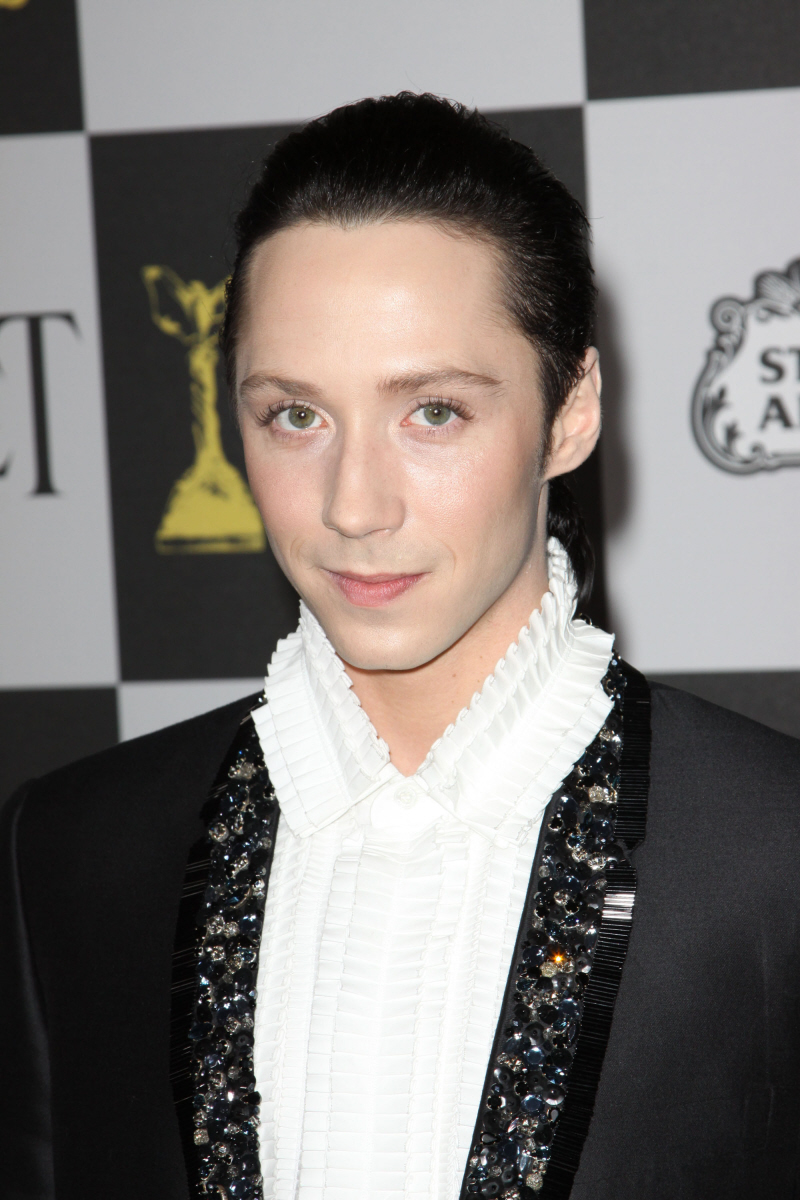 Johnny Weir at the Independent Spirit Awards on March 5 and the Elton John post-Oscar party on March 7, 2010. Credit: WENN.