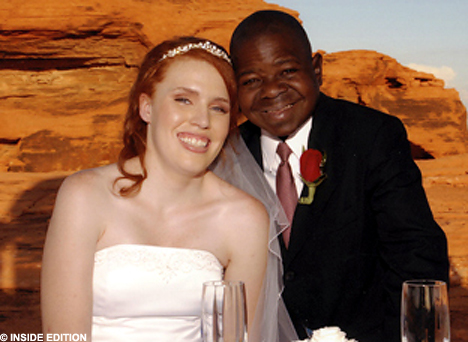 The Insider has several head-shaking interview clips with pint-sized washed-up former child actor Gary Coleman, 40, and his 22 year-old bride. We reported earlier in the week that Gary and his wife, Shannon Price, talked candidly about their volatile relationship in which they can go for a week without talking and Gary routinely throws stuff around the house in a rage. They've been married a whole six months after meeting on the set of one of Gary's movies you've never heard of, Church Ball, where Price was an extra. Price didn't recognize Coleman when he came up to her and told her she was too good looking to be an extra. Their romance moved from there, with Price bringing a ring and proposing to Coleman when he was in the hospital for three months after complications from thyroid surgery. He had a scare in the hospital and had to have an emergency tracheotomy so that he could breathe. Price was afraid he would die and didn't want to lose him.
In interviews with The Insider, Price and Coleman admitted to the domestic problems they've been facing, with Price saying that they hadn't made up after a fight earlier that day during which Coleman threw the printer because he couldn't figure out how to receive a fax. She said "It's ok, I'm used to it." Price answered that she did fear for her safety when she was questioned about it. She answered "a lot, yes," and also said she feared for her three dachshund dogs, which Coleman doesn't like. Coleman answered "That doesn't mean I'm going to kill them."
Coleman said that although he's been with Price for a year they haven't had sex. He said "It will happen when it will happen." It came out earlier that Coleman said this was his first relationship ever, so maybe we can assume he's a virgin. With a temper like that, it's no wonder.
Here is their more involved interview. He looks less than sober to me in these videos.

And here's Coleman saying he hasn't had sex:

Thanks to Redlasso for the heads up on this.