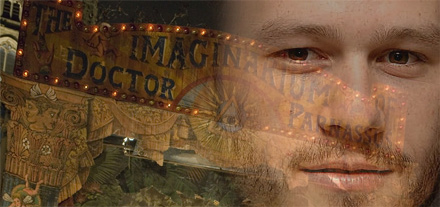 When I first read this story I thought it must have been something cooked up by a journalist with an overactive imagination, and it very well might be, but movie site Ain't It Cool News is reporting that the director of the film Heath Ledger left unfinished when he died, The Imaginarium of Dr. Parnassus, has three big names in mind to take over for his character. Since the film is a fantasy in which Ledger's character could easily change into someone else, all three replacement actors may pay tribute to Heath with performances:
Have I mentioned how much I love this idea? Because I do. I think it's beautiful that the script loaned itself to this sort of idea, that we're going to see Heath Ledger's work in Terry Gilliam's new film, and that we're also going to see three very interesting actors step up to offer interpretations of him as a way of paying one final tribute to this actor whose career was cut so sadly short.

We've heard rumors about who might be stepping in, but now we've got the names verified. Count on it.

JOHNNY DEPP.

JUDE LAW.

COLIN FARRELL.

Nice choices, Gilliam. Can't wait to see what happens inside the IMAGINARIUM OF DR. PARNASSUS, and I'd love to get a look at the script they're going to use as they start this next stretch of shooting on the film.
[From Ain't It Cool News]
Ain't It Cool News has a good reputation for getting insider information on films and this could be true. About three weeks ago unreliable British source The Sun wrote that Imaginarium director Terry Gilliam wanted Johnny Depp to take over Heath's part. There's a scene in which Heath's character falls through a magic mirror, and Cinematical quotes a studio source as saying "He could change into another character after that and that is where Johnny would come in."
Back when that story came out, the movie was in shutdown mode following the death of Ledger, and workers on the film thought it wouldn't come back. The star of the film, Christopher Plummer, has said that Heath's final scenes would be created using CGI imagery, and he did suggest that other actors would be used. He is quoted as saying that "Because the film deals with magic, there is a way of turning Heath into other people, and then use stills and computer generated imagery."
Maybe Heath's character will get turned into three other top actors. It's exciting to think that Depp, Law and Farrell might play in this film. I bet Daniel Day Lewis would be happy to be involved too, as he dedicated his SAG Award to Heath and seemed to be very affected by his death.
The evocative header image was created by /film.