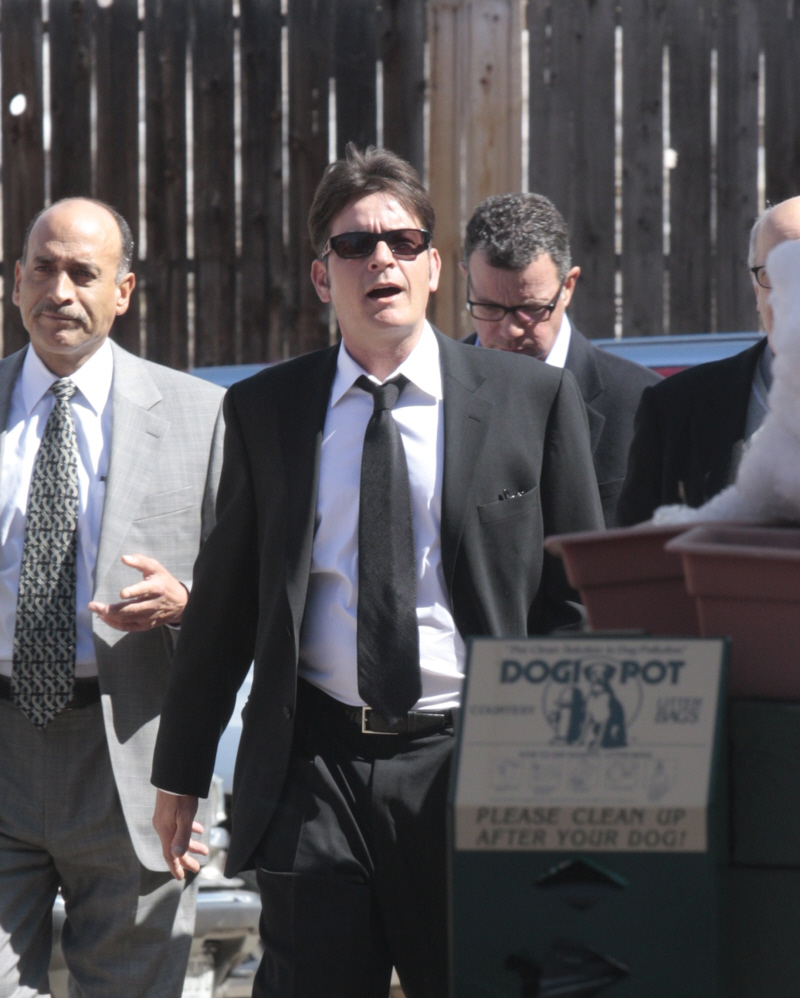 On Monday, March 15, Charlie Sheen pleaded not guilty to the one felony charge and two misdemeanor charges leveled against him by the Aspen, Colorado district attorney's office. The charges stem, of course, from the alleged, alcohol-soaked Christmas beating he gave wife Brooke Mueller. Officially, it was Charlie's lawyer Richard Cummins who entered the not guilty plea on Charlie's behalf. The trial won't be until July.
In addition to that, Radar has word that Charlie has hired a new lawyer to represent him for this case. This guy, Steve Cochran, has a reputation as a celebrity heavy-hitter, and his other clients have included Britney Spears, Michael Jackson and Forest Whitaker, amongst others. Here's more, from Radar:
With his freedom hanging in the balance, Charlie Sheen has hired a new, high-powered Los Angeles lawyer to help defend him in his domestic violence case, RadarOnline.com has learned exclusively.

Sheen hired Steve Cochran, a well-known L.A. criminal defense lawyer who has worked on many high-profile cases including defending Michael Jackson. RadarOnline.com learned that Sheen wanted more firepower in the courtroom. Richard Cummins has been Sheen's lead attorney until now.

Cochran will be admitted pro hac vice to assist in Sheen's defense Monday. Pro hac vice is a term used "for the moment" that allows a lawyer to practice in another jurisdiction.
It is unclear if Cummins will remain as the lead attorney but sources tell RadarOnline.com that Team Sheen believed they needed a "more high powered" attorney on the case for the Two and a Half Men actor.

Cochran left Jackson's defense team in 2004 for unspecified reasons. Thomas Mesereau Jr. continued to represent Michael, who was acquitted. Cochran represented Jackson on many matters, including in 1993 when the singer was accused of child molestation. He has also represented Sheen previously, Britney Spears, Forest Whitaker and other tops stars.

Colorado has been cracking down on domestic violence cases and as RadarOnline.com reported Chief Deputy District Attorney Arnold Mordkin will not accept a plea bargain from Sheen that does not include a felony charge. Sheen will not plead to a felony but would be willing to make a deal pleading to misdemeanors in exchange for no jail time, sources told RadarOnline.com.

But with both sides at a stalemate the court action gets underway on Monday with Sheen's arraignment. The actor will face jail time if convicted. RadarOnline.com learned exclusively he will contend that the violence and threats never occurred and that his wife's drug problems make her words unbelievable.

Sheen, who has returned to work on his TV series, had been in rehab for several weeks because he had started drinking alcohol again and using cocaine.

Brooke Mueller recently went into rehab, is addicted to crack and is an alcoholic. She has been in rehab more than five times over the years, RadarOnline.com learned. Mueller does not want to cooperate with prosecutors. Her 911 call will be a key piece of the the prosecution case but the defense will counter by saying she was drunk at 8:30 in the morning and also on crack.
[From Radar]
To me it seems like Charlie is really serious about not going to jail and not being forced into some kind of alcohol or domestic violence program. And you know what? If he's got the money for these big-time lawyers, chances are the lawyers will drown the local, civil servant district attorney's office in paperwork. I don't think Charlie is going to jail. I don't think Charlie is going to be forced into going into any kind of program. I think Charlie is back to drinking, doing coke, and bangin' hookers, and that's what he intends to keep doing. Just my theory!
Charlie in Aspen on March 15, 2010. Credit: INFphoto.com