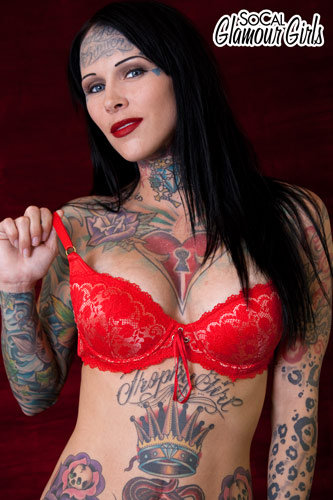 It's easy to find out information about Jesse James' alleged mistress, Michelle "Bombshell" McGee. The tattoo model has frantically promoted herself all over the web, and there are plenty of trashy photos of her. It's hard to tell what's true about her, though, as she's clearly embellished her biography. This is a woman with "We are all sinners" tattooed in large script across her forehead. I'm not really thinking she's the trustworthy type. (It's more about what she does for a living than all her body art.) Unlike Jesse James, who recently deleted his Twitter account, she hasn't shied from the publicity she's gained from this scandal. She probably feels that she earned it – on her back.
Michelle has kept up her website, although she's had to reduce it to just one page and writes "My website has received an INSANE amount of traffic today…so much that I have to switch to a dedicated server. I should have the blog back up and running shortly. Please check back soon. xoxoxo." She also predictably has a Facebook fan page, Twitter and MySpace. Her Twitter handle is "EvilC*nt."
And Michelle is part of a group of webcam girls known as SoCal Glamour Girls, where you can get off with tattooed, surgery-enhanced women for a fee. Judging from the video on her profile that involves her caressing her boobs in a tiny bikini, her webcam sessions involve more than just talk. Michelle also claims to be a dominatrix. There are a lot of other details about her life that she's shared on her SoCal biography and in interviews that sound bogus.
Claims she was raised Amish
McGee, who calls herself "Michelle Bombshell" shared the surprising news during an interview at the Miss Ink Contest in Las Vegas, in which the heavily tattooed model was competing. "My parents are very conservative," McGee said. "I grew up Amish but left the church when I was 16 – I never looked back. I moved to LA and got tattooed."

McGee says that after she left the church her parents turned their back on her, "My parents don't talk to me but that's OK, I have good friends." – From Radar

Claims she's getting a masters degree in biochemistry
"With all these tats, you might think I was a big partier. Sure, I get really wild in the sack with my men, but I'm actually a graduate student in college looking for the right sugardaddy to teach me and be my sexy mentor. If you like big boobs and tattoos, mine will be the perfect fit. I'm working on my Masters Degree in Bio-chemistry in the Cal State system and already have my BS in biology." – From SoCal Glamour Girls

Claims she's just 24
Age: 24 Height: 5'5 Hair Color: Black Eye Color: Blue Body Modifications, Tattoos, Piercings: Many tats, no piercings – From SoCal Glamour Girls
Age: 99 – From My Space

Has two grade school age children
The tattoo model, who RadarOnline.com learned had once advertised herself on the adult website SoCalGlamourGirls.com, is also a mother of two grade school-aged children.

"She was really quiet and a nice girl," a former landlord of McGee's told RadarOnline.com. "She had two kids and she didn't have a lot of visitors."

McGee had moved out of the modest San Diego apartment in October and the landlord never saw James. The landlord added: "And we would have." – From Radar
Sandy Bullock's husband went and found himself a real winner with whom to pass the time while his gorgeous, movie-star wife was away working. It's really sad for Bullock, but it's nothing new. She's in the company of many other Oscar-winning actresses. As Whoopi said yesterday on The View "men are dogs." And there will always be plenty of dumb bitches like Michelle "Bombshell" McGee to accommodate them.
The video below is NSFW!