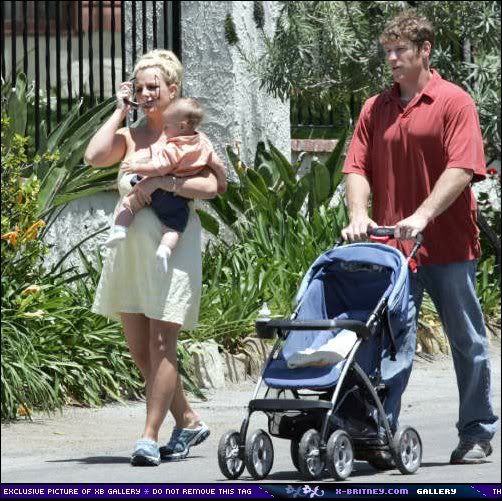 Britney Spears is said to be furious with her husband K-Fed for feeding stories about the couple to his scumbag friends to sell to the tabloids:
Spears suspects that K-Fed is responsible for some of the leaks to the tabloids about the couple's private lives. "Britney knows Kevin tells his friends information, knowing they will leak it to tabloids," a source close to Spears told Us. She has taken to not telling her hubby certain things — including that she was going to announce her pregnancy on David Letterman — for fear the info would be leaked to his buddies. "They sell stories for money. … She is sick of him using her for them to profit."
K-Fed is also said to have spent a whopping $300,000 on a watch without asking Britney if it was ok first. It may have been his money, since he made just that amount for a Japanese tour, but all his other purchases were clearly bankrolled by Britney. He has two cars, a Ferrari with custom "Federline" detailing, and a brand new Maserati. He couldn't afford to even lease the cars for a couple of months if it wasn't for Britney.
There's also a rumor that Britney is making Kevin stay in the basement of their California mansion, but another rumor has him kicked out already.
Let's hope the divorce is announced soon and Britney can move on with her life and her career.
Here she is with a guy who is definitely the Manny, and we now know his name is "Perry." Aww. (Thanks xiaoecho for the tip.)
Pictures [via]