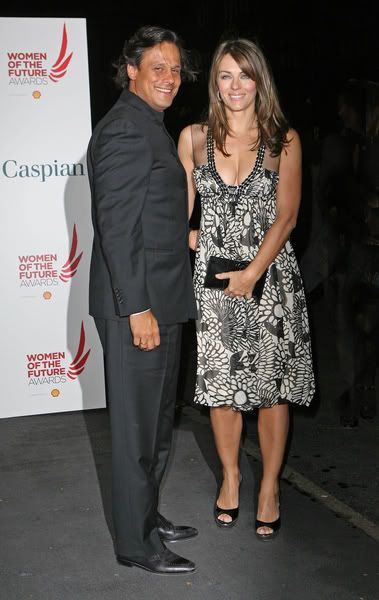 In case you accidentally didn't totally hate Liz Hurley, have I got a story for you. Liz is apparently pretty darn cheap. And not in that cute, "I still buy my shoes at Payless" way, but in that "I buy the very best for myself and stiff the little people as brutally as I can" way. Last month, Helen reported that Liz and her husband Arun Nayer stiffed the church at which they were married. The couple had promised to buy the church a set of kneelers as payment. That was considered tacky enough, as the standard donation is $2000. And it's generally customary to give more based on your wealth – but Liz gave less. And while that was ungracious enough, she and Arun still haven't ponied up and actually supplied the kneelers. Heaven forbid they actually compensate the church for their services. Unfortunately, this hasn't been some little oversight that can happen to anyone, it turns out it was very much indicative of Liz's character.
Several UK papers are reporting that Liz Hurley and Arun Nayer have been accused of paying their maid as little as $2.50 an hour. At times she was forced to work from 7:30 in the morning all the way until 3 in the morning the next day.
Liz Hurley and husband Arun Nayar have been accused of paying their Indian maid as little as £1.20 an hour. Violet d'Souza, who is said to have been brought to Britain by Mr Nayar's family, claims she was paid in rupees for working up to 70 hours a week at the couple's Chelsea home.

Ms d'Souza, 31, says she worked several days a week at the Chelsea house, where she also lived. Her chores included cleaning, cooking and babysitting from 7.30am until, on occasions, 3am the next day. According to the Daily Mirror, the couple paid her 8,000 rupees a week – around £100. The equivalent hourly rate would be between £1.40 and £1.60, and sometimes as little as £1.20 if she worked long hours. The legal minimum wage is £5.52. Hurley, 42, is said to be worth £13 million from acting and modeling contracts while Mr Nayar, 43, comes from a wealthy Indian textiles family.
[From the Daily Mail]
The Daily Mirror says that d'Souza withdrew her claims after she was given a five-figure settlement. She was scheduled to have a hearing in front of the employment tribunal tomorrow. Ms. d'Souza was fired without warning by the couple, supposedly after getting into an argument with them. I'm guessing a person can get a little cranky after working for 20 hours in a row. Ms. d'Souza was then immediately kicked out of the residence, which was her only shelter. She took refuge at her aunt's home, where she learned that she was being paid illegal wages. She was able to get an Oxford-educated lawyer to represent her for free from the Citizens Advice Bureau, so it sounds like she had a legitimate case. I've never been a big Liz Hurley fan. There's something about her that I can't put my finger on, but I find her distasteful. Now hearing that she's stiffed a church and paid her maid $200 a week, I find her utterly contemptible and disgusting. Unfortunately she's settled the claim, so there won't be any penalty for her. Except for a bit of unkind press.
Here's Elizabeth Hurley and Arun Nayar at the Women of the Future Awards at Grosvenor Marriott Square Hotel on November 8th. Images thanks to PR Photos.