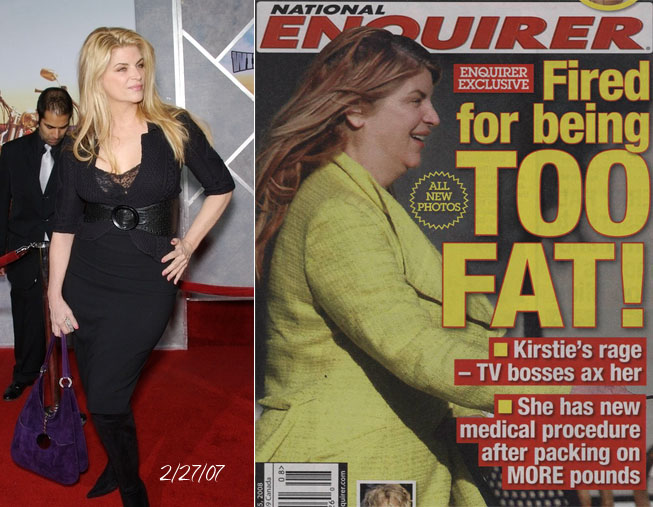 Despite the fact that Kirstie Alley hasn't yet lost the 75 pounds that she gained back in the past year, prompting Jenny Craig not to renew her contract as spokesperson, she has announced that she's going to start her own "Weight Loss Brand" in 2009. Maybe she's doing this to help motivate her to put her money where her mouth isn't, and hopes that she'll lose the weight and eventually be able to cash in on it. She's got to make back some of that $5 million she gave to Scientology somehow:
The weight-loss field is wide open and not immune to new ideas and improved solutions for the fat problems that plague many of us Americans every day. I want to create something new that will help millions of people end the seemingly never ending fatty-roller coaster ride. I am especially passionate about seeing to it that our next generations are not struggling with the same weight issues that my generation has struggled with.

There was a time when America was not fat, and that was in our not-so-distant past. I'm confident that I can create something exciting and innovative: something that if all goes well, will help change a fat America back into a fit America and will offer this country the healthiest, yummiest, easiest and most effective weight-loss program on the market.

If not, I'll see you at Central Casting.

Oh, but hey, don't "Call Kirstie" just yet. You'll be on hold too long. Call me next year.
[Kristie Alley's statement on People.com]
A lot of you wondered that since the Scientologists are so good at solving everyone's problems why they didn't have their own weight loss solution. This obvious question seems to have occurred to them too, and now overweight victims can have their wallets emptied along with their minds. Maybe they'll lose some weight too.
The Scientologists have front cult recruitment programs for detoxing 9/11 volunteers, for "rehabilitating" criminals, for getting addicts off drugs, and for running successful businesses. It's only natural that they would have a weight loss front program too. It's going to take a little while to develop, though, and for Alley to lose all that weight she put back on while she was battling her inner thetans. Several days in the sauna accompanied by blank-eyed minders feeding her nothing but vitamins ought to help get her back on track.
If this cult has anything to do with her new weight loss program, you're better off spending $5 g to go to expensive all-inclusive weight loss spa for a week. It will be cheaper and ultimately much more rewarding, and you know ahead of time exactly how much it will cost.