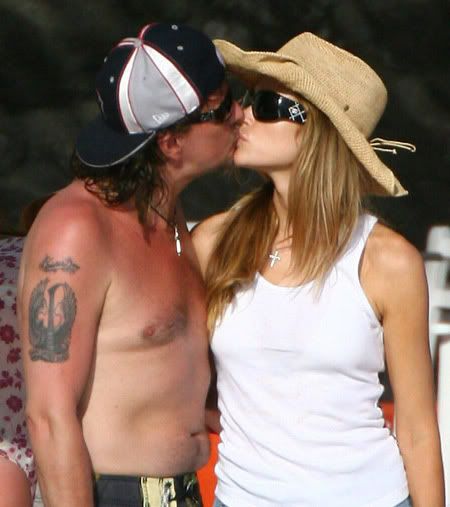 Denise Richards maybe didn't cheat with Richie Sambora, but she definitely snatched him right up after urging her neighbor and best friend, Heather Locklear, to divorce him. Now she's rumored to be planning a wedding with the Bon Jovi guitarist!
Alan Smith, writing in the Enquirer reports they are already planning a wedding.
So that's why she's chasing Richie allover Europe. In what will either be blockbuster news or sweet relief for Heather and Denise ex Charlie Sheen the magazine claims wedding bells are planned for 2007.
"Richie and Denise are defying the naysayers and setting up arrangements for a wedding early next year when hey are free of their bonds," an insider tells the magazine.
"This is a serious romance – not two boomerangers. They feel destined to be together forever."
So much so – that Denise dumped her kids on her mom and dad – and headed off to Europe to hang with Richie on tour.
Denise seems like a needy person who can't deal with being single. She followed Sambora on tour like a puppy after he said he was single during a concert, and she made the dumb move of having her publicist confirm their relationship. We hope this isn't true and she'll think twice before jumping into marriage again. Her first one didn't work out so well, and she's not even divorced yet.
Heather's going to flip when she hears this, and she's sure to do something much worse than driving by Denise's house playing loud Bon Jovi tunes.