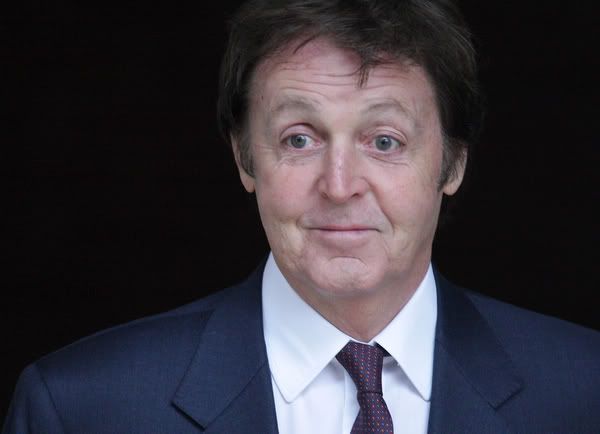 Paul McCartney will be receiving a Lifetime Achievement Award at the Brit Awards tonight. The former Beatle will be performing "Live and Let Die" during the ceremony and dedicating the performance to his deceased wife Linda. Some say the dedication is a deliberate move to snub his most recent former wife, Heather Mills.
Paul McCartney will send a stinging message to Heather Mills tonight when he dedicates his lifetime achievement award at the Brits to his first wife Linda.

In a clear snub to his estranged wife, Mail Online can reveal McCartney will perform as the grand finale of the biggest event in the music calendar the track Live And Let Die – as a tribute to his late wife who died of breast cancer ten years ago next month.

The track was written in considerably happier times in 1973 when he was living with Linda and their young children James, Stella and Mary at the family estate in Peasmarsh in Sussex.

Linda and Sir Paul wrote the track together. They were even Oscar-nominated as a duo for the song which was the soundtrack for the James Bond film of the same name.

…Speaking during backstage rehearsals for the Brits at Earl's Court, Sir Paul told the Mail: '"'Live And Let Die' is the song that reminds me of Linda. 'Hey Jude' reminds me of John."
Paul made some waves earlier in the week when he didn't show at divorce court on the very day a settlement agreement with Heather Mills was supposed to be worked out. Turns out that McCartney wasn't blowing off court– he had previously notified Mills' lawyer that he was rehearsing that day for the Brit Awards performance.
Sir Paul, who spent the past week battling it out in the High Court with Miss Mills over his estimated £825 million fortune, will also sing Hey Jude in dedication to his dear departed bandmate John Lennon who died in December 1980.

As the Mail revealed earlier in the week, Sir Paul stood up Heather in the High Court on Monday. She turned up thinking they were going to sign a historic £55 million divorce deal.

But Sir Paul did not show without warning. It has now emerged that he was at Earl's Court at the time, rehearsing his Live and Let Die Brits finale as a tribute to Linda.
The Brit Awards are the UK equivalent to the Grammys. Also scheduled to perform are Amy Winehouse's "Back to Black" producer Mark Ronson, Rihanna, Kylie Minogue, Mika, X-Factor winner Leona Lewis, and the Kaiser Chiefs.
Picture note by Celebitchy: Paul McCartney is shown outside of court on Valentine's Day, thanks to PRPhotos.