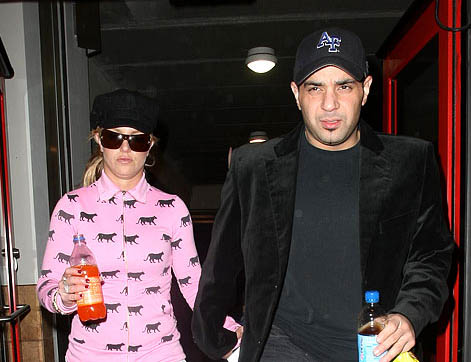 Britney and Sam Lutfi in December, 2007
Mystery lawyer Jon Eardley, who claims he has been hired by Britney Spears to contest her father's conservatorship in federal court, has been smacked down by Federal Court Judge Phillip Gutierrez. TMZ is reporting that the lawyer's filing earlier this week, in which he claims that Britney's civil rights are being violated as long as Jamie Spears is her conservator, is being called "frivolous" and the case will most likely return to California state court by the end of the month.
A Federal judge in the Britney conservatorship case has issued a tentative ruling that the move to make a federal case out of it is ridiculous. Judge Philip Gutierrez set a deadline of February 29 for Britney's so-called lawyer, Jon Eardley, to explain why on Earth the federal court has any business getting involved in Britney's mental affairs.

The court said it sure seems the Feds have no jurisdiction to interfere, and unless Eardley can convince the judge to the contrary, the case will go back to State court on Feb 29.
[From TMZ]
Well, since Britney is not able to hire her own counsel under the rules of the conservatorship, I'd say this Federal Judge is being more than reasonable to even read the filing and give Eardley an opportunity to explain his involvement. It's a good thing I'm not a court judge– I'd be throwing people out on their asses all day long.
In other conservatorship news, camp Jamie Spears believes that Sam Lutfi, rather than Britney, is behind this whole federal case farce. Funny how Lutfi can contact a lawyer, but somehow can't seem to answer his door to receive that pesky restraining order.
Lawyers for Britney Spears' conservatorship filed papers yesterday in federal court, asking the court to reject the bid to remove the case from the California Court system.

In the papers, the lawyers claim Britney was in no position to even hire a lawyer for the federal case because she's not allowed to under the conservatorship order. Attorney Jon Eardley, who filed the federal case, claims Britney hired him.

Lawyers for the conservator also want Eardley to identify everyone with whom he worked to get the federal case filed. It's real clear the conservators believe Sam Lutfi is behind it, and he's been restrained from having any contact with Brit.

The conservators' lawyers also want Eardley to pay attorney's fees, claiming the federal file is kinda frivolous.
[From TMZ]
Every time there's another court hearing on Britney's behalf, I am so glad I don't live in the state of California. I can't even imagine how many taxpayer dollars have already been spent on EMT vehicles, ambulances, police escorts and the like. Hopefully this will stay out of federal court as well. Those federal court judges have way more important issues to deal with than stupid Sam Lutfi and his desperate attempt to weasel his way back into Britney's life.
Header image is of Britney and Sam in December of last year.