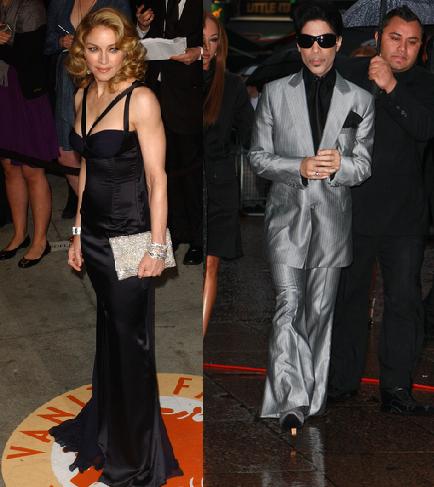 Vanity Fair canceled their Oscar party a month ago. This was a huge deal in Hollywood, as that party was THE party of the Oscars. It was very "seen and be seen." Say that in a snooty voice and you get the picture. If you spent too much time at any other party, you weren't someone to be bothered with. Vanity Fair did this for two reasons, one official, and one not so much. The official spiel was that they were doing it in solidarity with the (then) striking writers. The unofficial reason was that everyone assumed the Oscars would either be canceled, announced in a press conference format, or held in the usual way but without writers so it would really, really suck. And though the writers are back, the party is still canceled. So what will our dear celebs do to keep themselves entertained and pleasantly drunk? Well luckily Madonna and Prince are hosting competing parties that are supposedly very A-list. Talk about a battle of the divas.
One contender to fill this black-tie social vacuum is the party Madonna, her manager Guy Oseary and Demi Moore have put together at the last minute.

Whether this affair becomes an annual event hasn't been decided.

The party, to be held in a home in the Westside hills, will begin around 9 p.m. A few hundred people are invited, although this number will probably expand. One person who's seen the guest list said, "Everybody's on it. It gives the A-list Vanity Fair crowd someplace to go to. It will probably be pared down to where it's 85% talent, not a lot of suits."

But even if this party skims off some of the celebrity cream, the Governors Ball will still be the major draw. "It's the biggest game in town," said one exec. "This is going to put the glamour back into the ball."
[From Variety]
But just in case you're not a fan of Madonna or Demi, there's always Prince's backup party. Though something tells me if you don't like Madge, you probably don't like Prince either. No word on the dress for the event, though I'm guessing it's something hokey like "Purple Tie."
The diminutive divo has quietly cornered the market on exclusive awards parties. One source familiar with the RSVP list says names include "Katie and Tom, Will Smith, Salma and Penelope."

While previous parties have been held in hotel suites, this year's will take place at Prince's new home in Benedict Canyon. But not everyone has scored a golden ticket.

Leven Rambin gushed at the W magazine party at Sunset Tower that she had just been invited. (And for more on her controversial new role in "Lipstick Jungle," check out my Oscars blog.)

But across town at the Beverly Hills Hotel, where Academy Award nominee Ruby Dee was being honored by Black Enterprise magazine, the party was news to her.
[From Gatecrasher]
Oooohh, the drama! How can everyone's party really be the most exclusive? Everyone claims they're only inviting the A-list, yet there's hundreds of people coming – they can't all be A. Somehow Tara Reid always ends up at one of those things, which instantly demotes the whole fiesta down to C-list. In other (happy) Oscar news, Paris Hilton has been banned this year, as confirmed by multiple media outlets. Supposedly she "cried hot, salty tears" according to an oft-quoted source. Doesn't that just make you feel like all is right with the world?