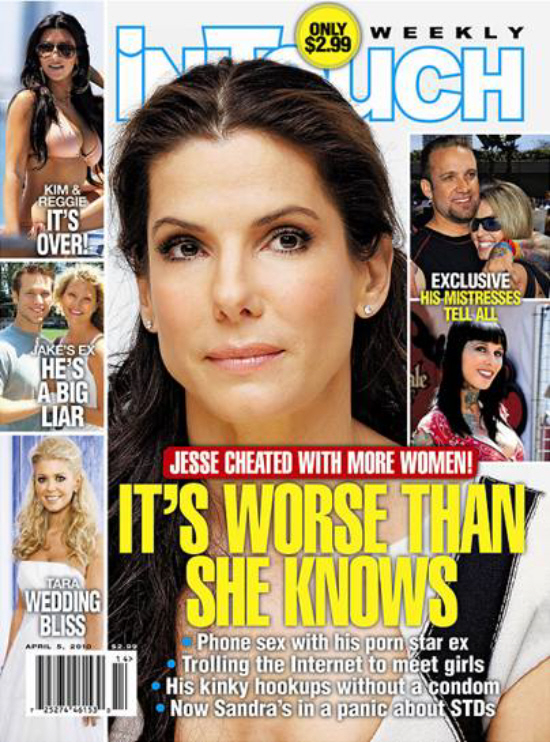 The Jesse James scandal is hot news right now and his ex is capitalizing on it with a tell-all "I told you so" interview to be featured on the cover of In Touch. Janine Lindemulder, a porn star who served time for tax evasion, claims that Jesse cheated on her multiple times during their relationship, and adds that Jesse even propositioned her for sex, and had phone sex with her, after he was in an exclusive relationship with Sandra Bullock. I'm not sure how much of this we can believe as Lindemulder is currently in a custody battle with James and definitely has an axe to grind. Still, we've seen this guy's behavior and this isn't that far fetched:
Last week, In Touch Weekly was the first to reveal the shocking news that Sandra Bullock's husband Jesse James cheated on her with tattoo model Michelle "Bombshell" McGee. While Sandra copes with that information, even more astounding details have emerged about the man she once believed was her soulmate.

In an exclusive interview with In Touch, Jesse's ex-wife Janine Lindemulder describes, in her opinion, an immature, selfish man who has never been faithful to any woman he's been with — including Sandra. "He's a chronic cheater," Janine claims to In Touch. "I feel sorry for Sandra because she was so in love with Jesse that she was blind and gullible. She once said, 'I finally have a man who has my back.' And all I could think was, 'No. You have this man who does it behind your back.'"

According to the former porn star, she first learned Jesse — who had not commented by press time — was unfaithful to her just weeks into their marriage, when he accidentally sent her a text message intended for a lover And though Janine tried to ignore his bad behavior at first, it continued throughout the marriage — and then after, including the time when he was dating Sandra. "I remember at one point, about six months after he started dating Sandra, when he asked me to come by the shop," she recalls. "I told him, 'No way.' Later, he texted me, 'Thank God you didn't come by, because we would have been bad.'" In fact, she and Jesse were "bad" on one occasion while he was dating Sandra, when he cajoled her into having phone sex with him. "His famous line was, 'Tell me something nice,'" Janine recalls. "He would say he'd had a rough day and wanted you to tell him something nice… It was hard to say no to the guy."

Janine says she was "shocked" to hear Jesse and Sandra, 45, had gotten married in July 2005 — but that was nothing compared to the call she received from him at her Oregon home, just two weeks after he and Sandra had said their vows. "He said, 'I want to come up to Oregon. I think I made a huge mistake.'"

Read all of Janine's exclusive interview in this week's issue of In Touch, on newsstands Friday.
[From In Touch Weekly, received via e-mail]
Many of you have wondered if Lindemulder set up James to cheat on Sandra by having a friend, (this McGee character) pursue him. That's definitely possible, but obviously the guy was more than willing to take the rotten racist bait. Does it matter if Lindemulder arrange it or not? It's not going to make a difference to the classy, amazing woman he horribly betrayed. A few days ago TMZ reported that they had details from James' divorce from Lindemulder and that he accused her of multiple acts of violence against him, including "punching him, bludgeoning him in the back of the head with a flowerpot, swinging a steel bone sculpture at him, trying to run him over with her car, socking him in the eyeball because he used her parking space, and going Naomi Campbell on him with a cellphone." I'm sure it wasn't as one-sided as he's claiming. There are plenty of people who say that Bullock should have looked at James' past relationships, most notably the class of women he was hooking up with, before she married him. Sometimes we're blind to all that when we're in love, and it's only until we get hurt that we earn that 20/20 hindsight.