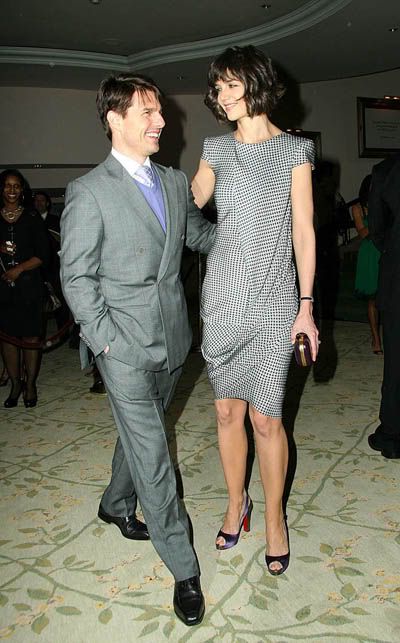 According to Mike Walker in the National Enquirer, who isn't the most reliable source but manages to come up with zingers about the celebrities every week (which would probably be impossible if all of it was true), Rosie O'Donnell pissed off pint-sized Tom Cruise by telling him that she read the very unflattering biography of him recently put out by Andrew Morton. The story is that when Rosie ran into Cruise at Madonna's Kabbalah fundraiser, she blurted out that she had read the book but didn't believe any of it. Tom got pissed that she had even read it and had the tenacity to tell him about it, and stormed off:
Rosie O'Donnell… rushed up to her idol Tom Cruise, planted a wet kiss… and instantly stuck a foot in her big, fat mouth! Babbling about Brit muckraker Andrew Morton's controversial new Cruise bio, Rosie barked: "I bought that book, but don't worry, Tommy – I don't believe a word in it!" Stunned and speechless, the InterGalactic Lord of Cruise Control finally gasped: "You actually went out and paid money for that book? I can't believe you'd buy that book – and then actually read it!" Sputtered Rosie: "I – I had to read it… so I could give my opinion if I was asked about it."

My spywitness says Tom lashed back: "No one cares about your opinion. I don't care about your opinion!" He grabbed wife Katie Holmes' arm and stormed off, leaving Rosie red-faced [and] humiliated.
[From The National Enquirer, print edition, Mike Walker's column, March 3, 2008]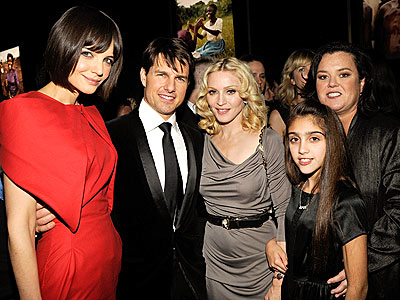 Sounds like someone is pretty touchy about that book if this story is true. In this photo that came out of Rosie posing with Madonna, Lourdes, Tom and Katie, Rosie is off to the side but everyone looks perfectly happy. Rosie blogged after the event that:
my tommy was there
handsome as ever
he makes me smile
i love that guy
[Rosie's blog via Just Jared]
You would think that Tom would handle that better, but maybe not. As it is, this story sounds fake and there's not much evidence for it, but it's juicy enough that we couldn't resist reporting it.
Tom Cruise and Katie Holmes are shown in the header image at the First Annual Essence Black Women In Hollywood event on 2/21/08, thanks to Splash News. They must've been working the crowd for Xenu. I really don't like Katie's hair like that. She's one of the only celebrities who works the helmet hair, so she should embrace that and not mess with it like that. Those curls don't suit her. She used to look so young with long hair.