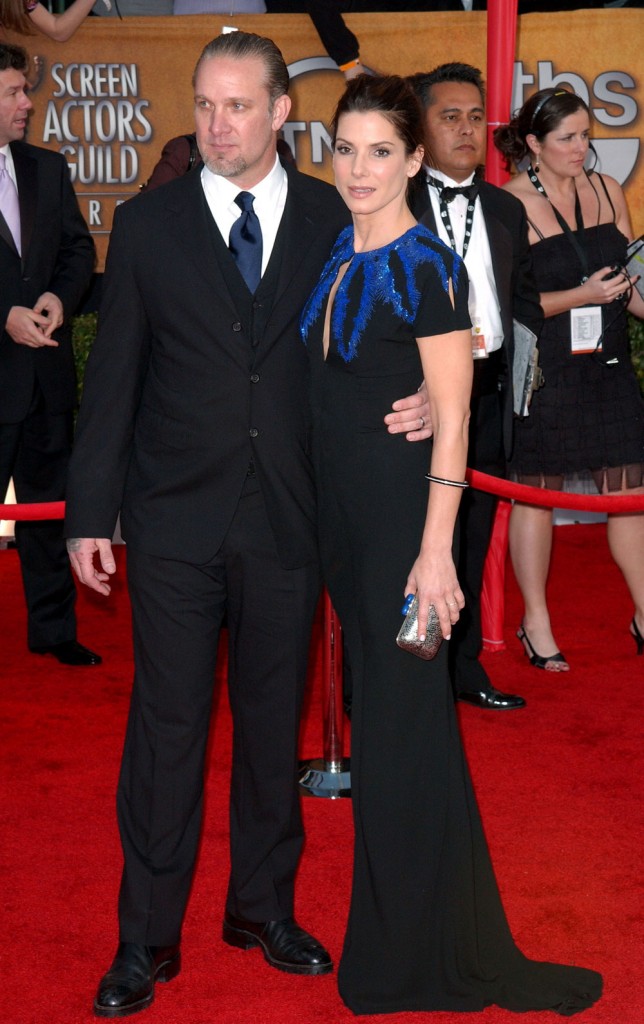 The latest chapter in the ever-unfolding cheating scandal of Jesse James is adding a little more color to Sandra Bullock's reaction to the news that her husband of five years was having sex with at least four different women throughout the marriage. A source is now revealing that Sandra had some suspicions about how her husband was spending his time while she was away – but didn't know for sure until the "In Touch" reporter called her rep to confirm the story.
When it comes to the sordid details of Jesse James' betrayal of Sandra Bullock, there is one small comfort: The actress did not learn about the cheating because her publicist received a call for comment from In Touch Weekly, the magazine that broke the story.

According to a person with knowledge of that phone call, Bullock's representative seemed to have most of the information about James' extra-marital activities already.

"The call was made on Monday and the rep never denied it once," said the source. "The rep was read all the dirty texts (between James and Michelle "Bombshell" McGee) and the rep asked all the right questions — about the dates, times, etc. of all the texts, and that was it. It all went down pretty easily actually."

So when did Bullock find out about James and McGee's affair?

"It was definitely before (the day of the call). Bullock was suspecting something before McGee went public," said a Bullock insider.
Meanwhile, Radar is claiming that Sandra has been staying at her home in Hollywood Hills – where she lived prior to moving in with James when they got married.
A devastated Sandra Bullock is hiding out at her pre-marital Hollywood Hills mansion in the wake of husband Jesse James' cheating scandal, RadarOnline.com has learned.

With four mistresses now public, Bullock has chosen to deal with her husband's tawdry affairs within the confines of the luxury house she purchased in 2001.

The Oscar-winning actress has welcomed well-wishers and supporters to the home, RadarOnline.com has been told exclusively.

"She is here," confirmed a friend who went to visit the star on Thursday.

Remarked one neighbor, who did not want to be identified: "There has been alot of activity at the house."

"There have been a few cars going in and out of her gate and people going in there in the last few days," the resident said.

"There has been more activity here in the last week than in the last year."

"It's usually very quiet here."

On Saturday morning, Bullock's trashcans were taken off the street by an unknown male, who refused to speak to photographers camped outside.

Bullock has not been spotted since moving out of the beachfront home she shared with James, the West Coast Chopper owner, in Sunset Beach.

Bullock bought the Hollywood three-bedroom for $1.485 million in January 2001, where she counts Cameron Diaz as one of her neighbors.

Despite marrying James, Bullock never sold her house on the A-list street, which is situated behind the famed Chateau Marmont hotel.

But she was known to stay there by herself throughout the marriage.

"She loves the house," said a real estate insider.

"That's why she never sold it. It's a pretty big property and it's private."

The home is a 45 minute drive from Sunset Beach where Bullock once lived with James ­ and who remains there still, raising his children.

She has not returned to the house, RadarOnline.com has confirmed.
I'm really wondering what kind of scum works at "In Touch." I mean, was it necessary to call Sandra's rep and read all the dirty texts? How is that journalism? If there is any positive side to all this, at least Sandra knows now that her suspicions were justified. Jesse is so stupid and cocky about his cheating that he made sure to leave plenty of proof for these skanks to turn in to the tabloids. You have to wonder if he wanted to get caught.
I seriously hope that there are no other women to come forward in this scandal. But something tells me that it's not over yet, and there are still skeletons rattling around in Jesse James' closet.
Photo credit: WENN.com