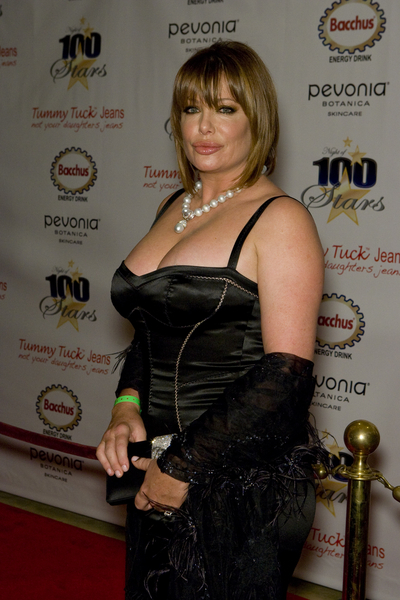 80s fantasy chick and Weird Science babe Kelly LeBrock, now 47, lost 31 pounds on VH1's Celebrity Fit Club back in 2005, but has since gained it back and says that the way she lost the weight wasn't healthy. She told OK! Magazine that she's "never going to diet again" and that she will "never eat lettuce again."
Now I understand never dieting if it's something that means starving for you, as long as you're not talking about taking it to the extreme and eating huge portions of bad food, which would be someone's prerogative I guess, but never eating lettuce? Maybe she just means that crappy iceberg lettuce that has no nutritional value, because there are a lot of different kinds of lettuce that make a nice salad and I can't see swearing them all off.
OK! caught up with Kelly at the Oscar party Night of 100 Stars, where she was fighting mad — because, she said, a nasty magazine recently implied she was fat.

"I'm not fat!" Kelly declared. "I don't look like a 400-pound heifer! I'm going to keep eating. I eat normally. And I've had three kids."

She added that actresses like herself, "have to be role models for all these young girls" so they don't become scary skinny.

Two years ago, Kelly, now 47, lost a total of 31 pounds on the VH-1 reality show Celebrity Fit Club, but the Weird Science star found dieting just wasn't right for her. "I didn't eat for three months," she explains. "It was dangerous. It was a really bad way to lose weight. I will never eat lettuce again!"
[From OK! Magazine]
LeBrock said that she doesn't weigh herself and that "If I can fit into a ten/twelve, I'm happy."
If she's happy and comfortable with herself, and from the looks of that plunging neckline on her dress she is, that's all that matters. She looks fine apart from those chemically enhanced lips and not everyone has to be a stick. We do need more normal-sized actresses as role models, but it's not like she gets much exposure.
There are health issues associated with being moderately overweight, and a lot of the articles I consulted about this stated that "studies show that by losing as little as 10 to 20 pounds you can dramatically improve your overall health status."
So maybe she thinks dieting means starving yourself and eating only iceberg lettuce, but it also means getting more vegetables and maybe cutting some of those empty carbs in favor of more nutritional food.
Jennifer Love Hewitt recently said that she's not going to exercise just to look good, and that she'll do it for her health and so that she can live a long and happy life. That sounds like a more sensible approach to all this body criticism instead of just saying "f'ck it"
Jennifer Love Hewitt is shown at "The Envelope Please" 7th Annual Oscar Viewing Party and Kelly LeBrock is shown at Night of 100 Stars Gala Viewing Party both on 2/24/08, thanks to PRPhtoos.