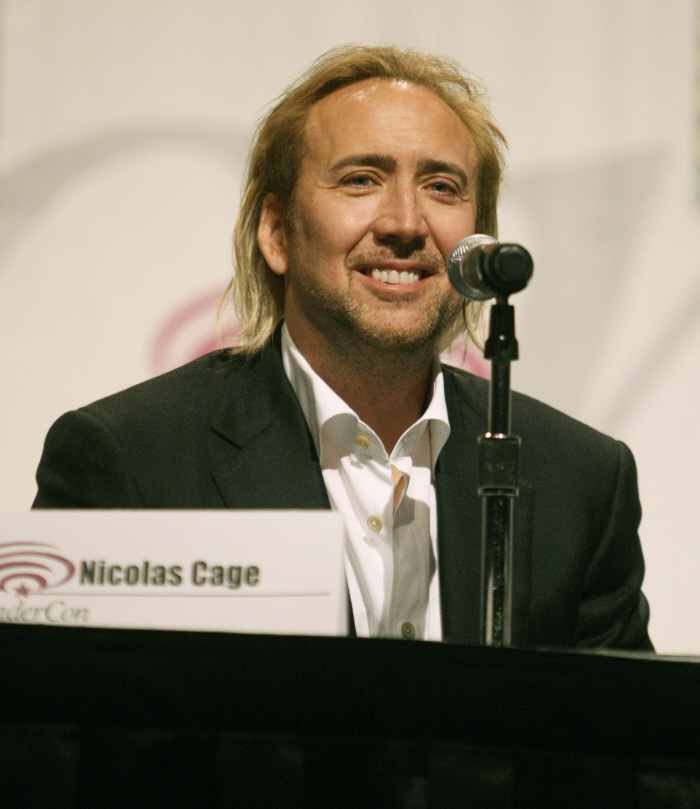 Call me crazy, but I don't hate Nicolas Cage. I actually like him a lot, even though I think he prostituted his tremendous talent to make too many inane movies with insane paychecks, and then topped it off by blowing those insane paychecks on "luxury items" like a dozen homes and properties (including a castle in Germany!), 50 cars, more than a dozen motorcycles, exotic animals, dinosaur bones and, of course, for the man who has everything, shrunken heads. Sigh… remember when everyone was like "Nic Cage is the sex"? No? It was a while ago. I was a kid, but he really did used to be the sex.
Anyway, time passes, talent gets prostituted, and shrunken heads need to bought and displayed. And in that time between "Nic Cage is the sex" and "Nic Cage is a really strange dude who loves his dinosaur skull," Nic's hairline started doing some strange things. Dude had a monster receding hairline for a while, and then it started to "grow back". It looked rather painful, actually – like Nic got some really cheap plugs. Then he was wearing wigs and hairpieces for a while, and now we have this – these photos are of Nic at a WonderCon press conference on Sunday to promote his role in The Sorcerer's Apprentice. What's going on with his hair? Did the plugs "fill out"? Is this a hairpiece? Are the sides shaved? Are those dredlocks? I don't know. But is it just me, or does Nic look okay? Sure, he looks like he's in the midst of a midlife crisis, but the blonde hair and the whatever looks okay.
Meanwhile, Nic has Bad Lieutenant: Port of Call New Orleans coming out soon, in which he plays a cop "overmodulated with painkillers, drugs, and sleep deprivation, Cage's oddest flourishes become soul-baring character development, and his behavior a kind of poetry" according to Cinematical. Nic recently sat down for an interview with Cinematical:
Nic on playing a character that is on so many drugs: "Well, actually quite a bit of thought did go in to that. It was something that I graphed out in terms of what substance he was on, because clearly if he was on coke it would be different tics and rhythms to the speech that might be quicker or louder, maybe more sprawling. There would be more feelings of invincibility. But then when he was on something like heroin, it naturally would start to slow down and become much more methodical. So I would graph out where he was in the scene, in the trajectory of the character, but at the same time it would also be an extended length of time when he hadn't slept and was on coke. So I had known people in my past, if they didn't sleep for three days and were on coke, sometimes their voice would go up there [into their nose] and they would start talking like that – they would hear it in their nose. So that's where I would go in that direction. But when you say things like "for weirdness' sake," I guess I would ask that you consider for a moment that I'm a fan of abstract style or abstract art. But being that I'm my own instrument, if a film actor wants to get abstract, it's considered crazy or weird, but if a painter gets abstract, he's not crazy, it's just the artist is crazy – or it is what it is. It's a certain style or a certain sound that I find interesting, like I like jazz music or what Miles Davis did with jazz music specifically, so when I think about it in those terms, well I'm like, I do believe in art synthesis, but how can you do that with film acting? So I guess I'm just trying to open things up, find new sounds and look for new gesture and form in film acting, and that's going to inevitably be met with confusion or assumptions, or enjoyment; it depends on however people choose to receive it, or if it's to their tastes, or not, but I know that it is something that I respond to and it's organic to me so that's what I have to do.

Are you surprised when you watch your films when they're completed, seeing how individual ideas you've tried came together to create something different than what you imagined or intended?
Well, I've been pretty lucky with Bad Lieutenant in the sense that what I had in my head got up on screen. So in terms of the performance and in terms of the character, yeah, I felt pretty fortunate in that specific case. But there have been many cases where it never came to fruition the way I had hoped it would, or other elements or were against it in the filmmaking process, or it didn't tie together as cohesively as I hoped it would. But I won't mention any specific names.

At this point what helps you decide which roles to pick? Because you find a amazing variety of roles to play, and yet you can go back very easily to something like National Treasure.
Well, a lot of it has to do with is there anything I can learn from it? Is there any new territory I can explore? Is there some way I can build this character that might be entertaining for me and for audiences and try to build things from scratch. But with National Treasure, that to me is exciting because it does appeal to larger audiences and it does appeal to the whole family, and I feel like that's one of the best ways I can apply myself is to make movies where people can have that ritual of looking forward to it and taking their parents to it and parents taking their kids to it and can congregate. So that's one of the best usages, I think, of what I do in terms of making movies and applying my abilities. Then, I also have other interests. I am interested in the midnight audience, so I make movies like Bad Lieutenant so I can hopefully find, I call them sounds, where almost like music I can find new ways of expressing myself through my imagination and the different sounds that I may or may not hear. But they wouldn't be right, certainly not right for National Treasure. But even in National Treasure, there's moments of choreography and rhythm.
[From Cinematical]
Nic is pleasantly insane, isn't he? I didn't even put in the part of the interview that was about iguanas. Here's the thing – I do think Nic is insanely talented. Give him a role like Adaptation or Matchstick Men, and it's kind of amazing just how lovely and talented he is. But I feel like Nic has Al Pacino syndrome – like, Pacino is a great actor too, and more than capable of creating deep, fascinating, challenging portraits of interesting characters, but instead, Pacino has spent the last part of career taking a series of roles where he's basically just yelling at people. I think Nic is like that too – he's spent too much time in the last two decades just doing movies that don't really challenge his talent. Eh. Maybe I'm wrong. I'd love it if Nic made some sort of huge comeback with a really amazing role.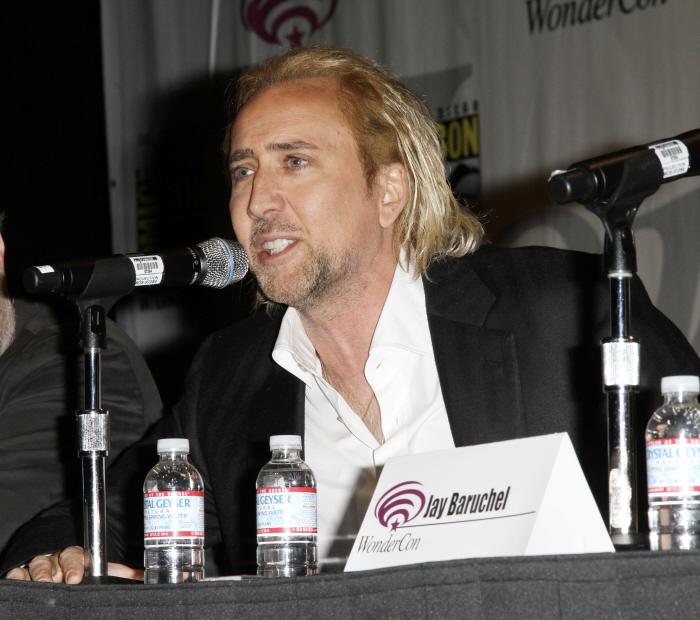 Nicolas Cage at WonderCon on April 4, 2010. Credit: WENN.