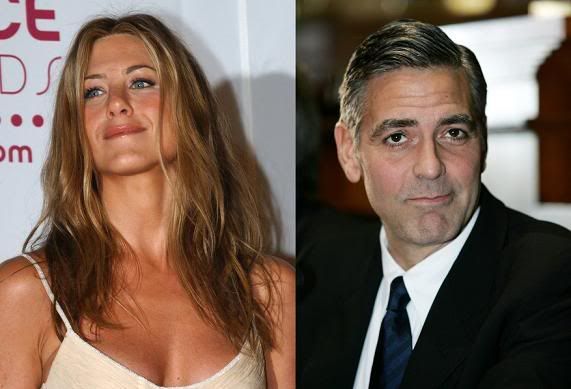 All of Hollywood is abuzz! The gossip blogs are literally on fire as I type. Jennifer Aniston did not, I repeat NOT – want to hang out with her ex-husband-who-left-her-for-some-hotter-chick's best friend. Can you believe it? In the snub of all Hollywood snubs, Jennifer apparently doesn't want anything to do with George Clooney's attempts to be friendly. George and Brad Pitt are BFF you know. According to OK! (and just about every other magazine in existence) George and Jennifer both attended the Night Before gala, an annual party held the (you guessed it) night before the Oscars. When George went up to Jen to say hello and have a little conversation, things got tense.
Oscar winner George Clooney certainly has his fair share of female fans, but OK! has learned you probably shouldn't count Jennifer Aniston among them! The handsome Michael Clayton star — who just happens to be best buds with Jen's ex Brad Pitt — sauntered up to the actress at last Saturday's Night Before gala in Beverly Hills, where she was busy chatting with Courteney Cox, David Arquette, Orlando Bloom, Robert Downey Jr. and his wife, Susan, outside of Bar Nineteen12.

"George attempted to be friendly, but Jen wasn't having it," one eyewitness tells OK!. "After enduring a few minutes of the actor's presence, Jen turned on her heels and made a beeline for the Sunset Ballroom, where most of the guests were mingling."

Courteney, naturally, joined Jen, leaving her affable husband, David, to make awkward small talk with George!
[From OK!]
Ooooohhhh, awkward. Does everyone in the world have to love George Clooney? I mean let's say, just for argument's sake, that Jennifer never liked George. Why the hell should she bother pretending otherwise for more than a few minutes if she doesn't have to? And I'm not sure "making a beeline" for the ballroom is the greatest of snubs. She's an actress. She's classically trained in the art of throwing a glass of champagne in a man's face, but she didn't do it. If she really can't stand George, I think she showed some restraint. Though I'm not sure Courteney Cox running after Jen to make sure their umbilical cord was still attached was the most mature move.
Here's Jennifer Aniston at the People's Choice Awards on January 9th. Images thanks to PR Photos.