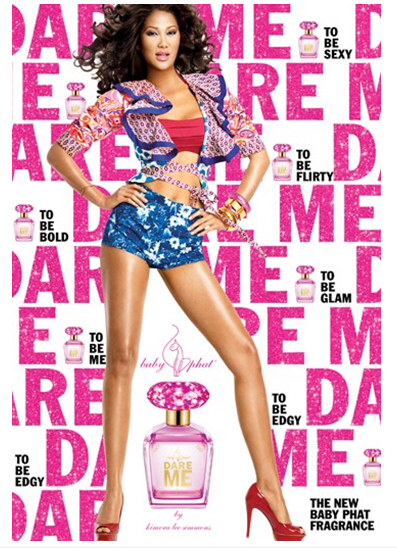 The above image is the new print ad for the perfume "Dare Me" which was apparently created by Kimora Lee Simmons. She is the face of "Dare Me" and will be starring in all future advertising for the perfume. Kimora told WWD that "message with this fragrance is empowerment and self-reliance." Unspoken: "…empowerment and self-reliance and somebody sticking my head on another woman's body." Don't believe me? Here's is a photo of Kimora from the beginning of March: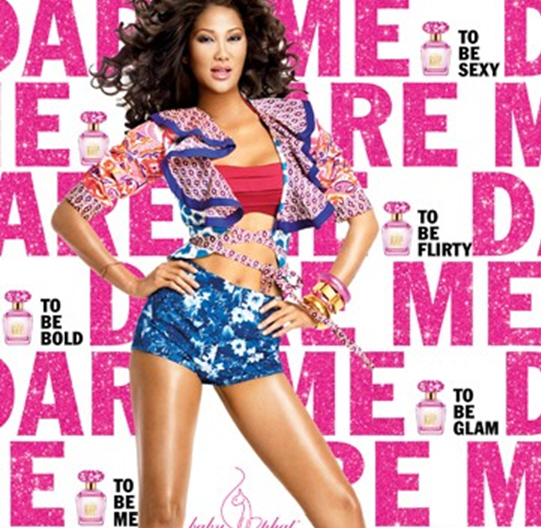 So, basically, the ad is beyond airbrushing. HuffPo and New York Magazine are both theorizing about whether Kimora's head really was popped onto some other lady's body, and whether or not this was Kimora's evil plan all along:
Kimora Lee Simmons's new fragrance Dare Me is cheap. No, really. Instead of beginning with prestige distribution like her past fragrances, this will go straight to a total of 18,000 mass-market doors, like Walgreens, Target, and Kohl's stores. Prices range from $12 for a travel-size bottle to $28 for a full ounce.

However, what probably wasn't cheap about this launch were the marketing materials, because hello, retoucher! Either they Photoshopped Kimora's body to death or stuck her head on a model's body. The question is, if they did the latter, would they tell her? Ironically, Kimora says the "message with this fragrance is empowerment and self-reliance."
[From New York Magazine]
Yep. And you know Kimora probably approved this sh-t 100%. What I'd really like to know is whether or not the staff was like, "Actually, we're just going to pop your head onto this chick's body" or if they didn't say anything and Kimora actually thinks she looks like this. Note: I am not saying Kimora has a bad figure at all. Her normal body looks fine – great even, especially since she just gave birth to son Kenzo less than a year ago. And obviously, she's got something going on, because Djimon Hounsou is still all over her. But let's be straight – this is not her body, and she shouldn't be putting herself out there, promotionally, with lines like "this fragrance is all about empowerment and self-reliance." Empowerment is not your head on another woman's body.
Here are some photos of Kimora from January and February:
Ad is courtesy of HuffPo.