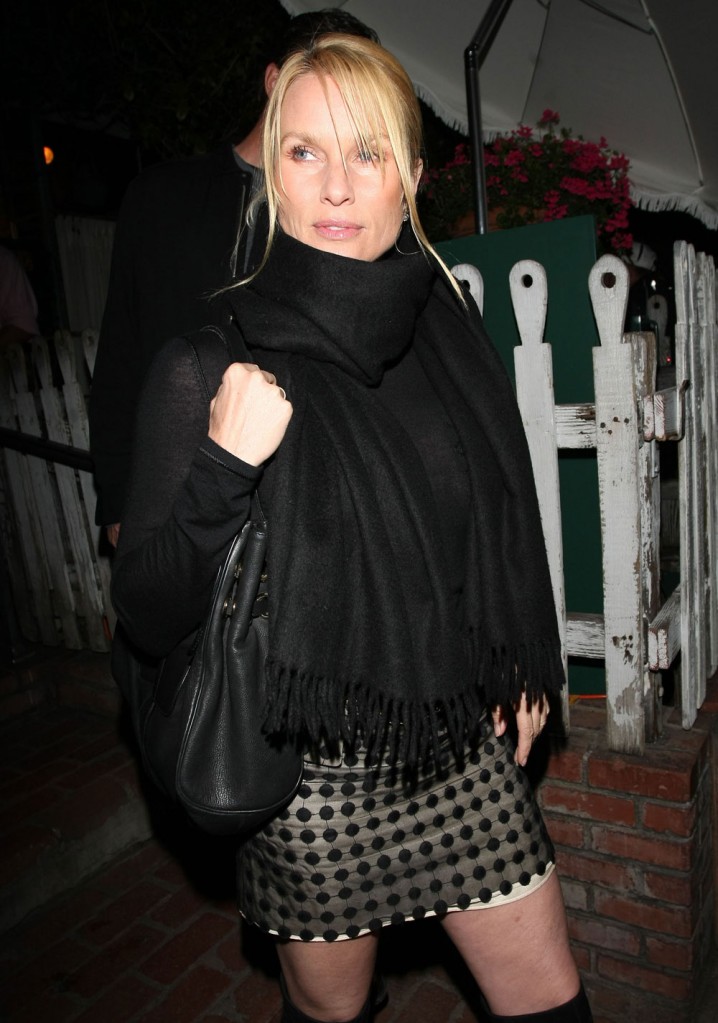 Nicollette Sheridan has filed a lawsuit against Desperate Housewives creator Marc Cherry and ABC for $20 million. Sheridan alleges that Cherry hit her on the face during an argument on set in September 2008. According to Sheridan's lawsuit, her character's death last season was in retaliation for complaining about the incident.
Former "Desperate Housewives" co-star Nicollette Sheridan has filed a lawsuit so over-the-top it seems perfect for Wisteria Lane.

The actress has sued ABC Entertainment Group, ABC Studios, Touchstone Television and series creator Marc Cherry for $20 million, claiming that she was physically assaulted by Cherry and fired when she complained about it.

The complaint was filed today in Los Angeles Superior Court by attorneys Mark Baute and Patrick Maloney.

Sheridan alleges Cherry struck her in the head in September 2008 on the set of the hit ABC series. "After she complained to her employer about Cherry's improper behavior, Cherry arranged to have Sheridan terminated from the show, resulting in her losing millions in future earnings," the complaint says.

ABC did not immediately respond to a request for comment. UPDATE: ABC Studios just gave us the following statement: "While we have yet to see the actual complaint, we investigated similar claims made by Ms. Sheridan last year and found them to be without merit." Cherry could not be reached.

Sheridan says Cherry punched her in the head during production on the the series' fifth season. He allegedly apologized but then arranged for her character, Edie Britt, to be killed off the show. Sheridan claims that she informed ABC about the whole mess, but producers did nothing.

The seven-count complaint alleges causes of action for wrongful termination; assault and battery; gender violence; discrimination based on sex, sexual orientation and age; retaliatory termination; breach of the implied covenant of good faith and fair dealing; and intentional infliction of emotional distress.

Some other allegations from the complaint:

Sheridan says the assault went down like this: "On September 24, 2008, during a rehearsal for the show, when Sheridan questioned Cherry about something that was in the script, Cherry took her aside and forcefully hit her with his hand across her face and head."
She says she was "physically and emotionally injured, humiliated and stunned by Cherry's sudden physical violence and stated, 'you just hit me in the head, that is not okay. THAT IS NOT OKAY!' "
Sheridan says Cherry's abusive behavior was well-known on the set: "After an incident where Sheridan's co-star on the show Teri Hatcher went above Cherry's head to speak to ABC executives, Cherry told Sheridan, 'I hope Teri Hatcher gets hit by a car and dies.' "
Sheridan, whose character was killed off near the end of Season 5, also says her compensation for the show was $175,000 an episode for her fifth year, $200,000 for her sixth season and $250,000 for her seventh. She claims she stood to earn millions if she hadn't been fired.
[From The Hollywood Reporter]
If this is as cut and dried as Sheridan claims then of course she's entitled to compensation. I'm not sure $20 million is at all warranted, but if she's telling the truth and she was fired for complaining about physical abuse from a supervisor then she has a right to sue. That's a big if though, and given the things we've heard about Sheridan I wouldn't put it past her to either exaggerate, misrepresent, or make up something like this in order to get a big cash settlement. I'm thinking we haven't heard about this until now because Sheridan was hoping that ABC would settle her claim with seven figures or more. Maybe when they refused to give in she decided to make this public.
Last year, Sheridan made some bitchy comments about Cherry. She said that he had personal issues that led him to kill off her character. "I think whoever Edie represented in Marc's life was somebody he didn't like. And he had a very difficult time distinguishing between fact and fiction." Cherry claimed that he axed Sheridan's character in order to cut costs, but he also gave her a backhanded compliment, and said she "performed the aging, neighborhood tramp better than anyone has ever done before." Given the expense involved with defending the network against Sheridan's lawsuit, it may have been cheaper to keep her on.
Nicollette Sheridan is shown outside the Ivy on 3/11/10. Credit: Fame Pictures