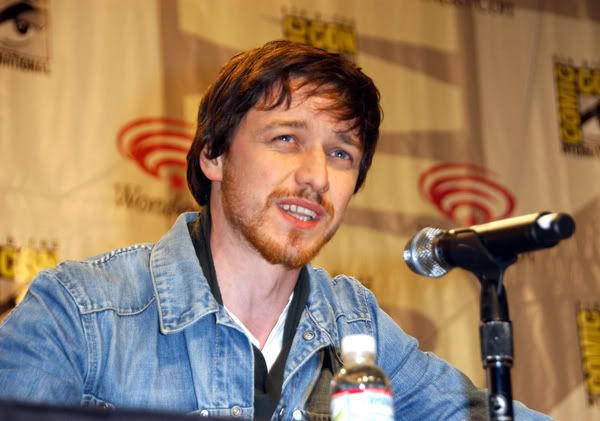 Actor James McAvoy has been notoriously tight-lipped when asked about his family. The actor, 29, has garnered a lot of attention lately for his starring role alongside Keira Knightley in "Atonement," for which he won a BAFTA. He's also gotten a lot of press for his low-key lifestyle – he and his wife, actress Anne-Marie Duff, 38, live in an apartment they bought several years ago for 178,000 (about $346,000 USD), share a ten-year-old Nissan Micra that's worth less than $2,000, and admit to rarely leaving their apartment. James has actually said that he purposely tries to avoid "celebrity bullshit," and I can think of few actors who've stuck to an ideal so thoroughly. Even Matthew McConaughey eventually gave up his Airstream trailer – but McAvoy has adamantly stuck to his beliefs. The Daily Mail has written a surprisingly thorough article on McAvoy, in which they hypothesize that the reason he lives such a low-key existence is that he doesn't want to draw a lot of attention to his family.
After McAvoy won his BAFTA, he thanked his mother, grandparents (who raised him), and wife, yet made no mention of his father or half-brother. It turns out that James has not spoken to his dad, James McAvoy Sr, in 21 years. His parents divorced when he was seven, and his father, who works as a roofer – claims that that eight-year-old James pulled away from him after he started seeing another woman.
"Our son took it hard," says McAvoy Snr. "He just wasn't the carefree little boy he'd been before." At first, father and son continued their relationship, with James Snr taking his son swimming or to watch Celtic football team. But when a year later James Snr moved in with a new lover, Mary McKinnon, the eight-year-old McAvoy refused to have anything to do with his father.

"I think James still had hopes of me and his mum sorting things out," claims McAvoy Snr. "He started refusing to see me because he didn't like Mary. In the end I took a step back rather than upset him."

The young McAvoy demonstrated his steely nature when a few years later he was larking around in the playground of the St Thomas Aquinas secondary school in Drumchapel and spotted his father working on the school roof. "James just looked away without saying a word," recalls his father sadly.
[From the Daily Mail]
That appears to be their last encounter. James has a half-brother named Donald from his father's relationship with the aforementioned woman. Donald was recently sent to jail after stabbing a man eight times.
To understand the extent of his transformation, perhaps we should look at McAvoy's 18-year-old half-brother Donald, currently languishing in Polmont Young Offenders' Institution near Falkirk. Donald – James Snr's son from his now-ended relationship with his lover Mary – has never met James the actor.

But no one could blame the star for distancing himself from his violent, alcoholic brother. Just a fortnight ago, Donald was sent to Polmont for stabbing a man eight times and, in a separate incident, threatening a 14-year-old with a hammer.

James Snr, who lives in a dingy first-floor flat, sighs: "I am standing by one son who's a maniac, but can't stand by my other son, who has done so well." According to Mr McAvoy, Donald's problem stems from his penchant for alcohol: "He's a polite boy who doesn't cause trouble until he has been drinking."
[From the Daily Mail]
It sounds like James McAvoy (Jr) isn't so much distancing himself from the unsavory side of his family – he simply has no relationship with them and never has. He's not under some obligation to acknowledge them now that he's doing well. They haven't been a part of each other's lives for a long time – and in the case of his half-brother, they've never even met. James himself has admitted to struggling with alcohol, and credits his wife with helping him straighten out his life, noting in his BAFTA acceptance speech, "she taught me to respect life." Having no relationship with his father is sad, but his dad doesn't say anything that implies he tried to reconnect with his son before he was famous – he even said he "took a step back" from their relationship rather than upset James, which makes no sense to me. McAvoy clearly has a lot of talent and a great head on his shoulders, and has made a lot of his life already. His family history is sad, but it explains why he doesn't want to talk about them and has insisted on moving forward.
Here's James McAvoy at the 2008 Wonder Con in San Francisco on February 22nd. Images thanks to PR Photos.