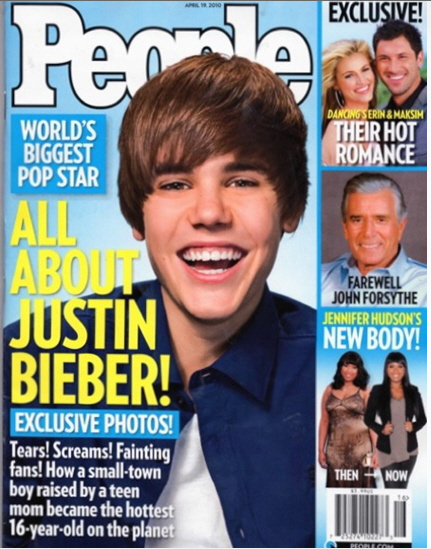 CB and I were chatting about Justin "The Bieb/The 12-Year-Old Lesbian" Bieber this morning. CB didn't know that much about him because she had been "ignoring" him, as if sheer willpower might make him go away. Once she actually acknowledged his presence and listened to one his songs, she decreed him "not that bad". I, on the other hand, have been reading more and more about this kid – who is actually all of 16 years old – and I have figured out some things: Did you know that his voice is really, really annoying? And that he sounds like they haven't dropped yet, if you know what I mean? And did you know The Bieb might be EVIL? Yeah. True story. Also, this kid gets more jailbait action than Jeremy Piven and Eli Roth combined. Granted, The Bieb is jailbait himself. Anyway, People Mag is trying to show the tweens some love this week, and they put The Bieb (in a really unflattering shot) on the cover. Here's an excerpt from the cover story:
It's been quite a few weeks for Justin Bieber: While most kids his age relaxed on spring break, the 16-year-old chatted with Jay Leno and David Letterman, visited American Idol, rocked the White House Easter Egg Roll and – oh yeah – landed at No. 1 with his album My World 2.0.

"What I have is a once-in-a-lifetime opportunity," Bieber tells the upcoming issue of PEOPLE, on newsstands Friday. "And I'm having a blast."

The singer opens up about his rise from YouTube sensation to pop star and admits that having such a busy schedule hasn't been good for his dating life: "Right now, it's difficult 'cause I'm traveling so much," says the single singer.

Even with Bieber Fever spreading across the globe ("It's like Beatlemania," says the singer's road manager and stylist Ryan Good. "Mass hysteria. Loud screaming, crying, passing out. It's amazing."), the pop star remains grounded.

"I still feel regular," he says. "You know, sometimes it's weird that I go places and I have thousands of people waiting for me, but I always think, 'I'm Justin' "

• For exclusive photos and more on Bieber – including his thoughts on topics ranging from his ideal girl to meeting President Obama – pick up a copy of PEOPLE, on newsstands Friday.
[From People]
Beatlemania? For real? Sigh… that just makes me want to see the new season of Mad Men. My mom pointed out to me when she finally saw the third season of Mad Men that "the next season is going to be all about the British Invasion… that's what it was like back then, after Kennedy died… everything British was cool." So, does The Bieb have Beatle-like powers determining epic coolness? Not so much.
People Mag cover courtesy of CoverAwards.