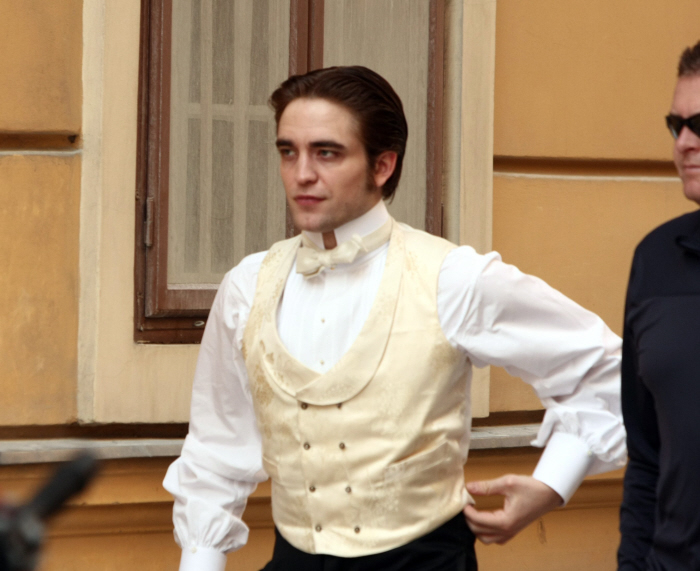 This is one of those posts about nothing. I just fell in love with these photos of Robert Pattinson on the Budapest set of Bel Ami on Thursday. I know you people hate me for hating on actors' costumes, but what the sparkly hell is this? Yes, it's a period film, but did people in the olden days really dress up like Mr. Vesty McSparklepants? This vest looks so… cheap. And not period costume cheap either. It's more like, "Dude, it's 1991 and I had to go to the mall to rent this vest with the tux for the junior prom. Now let's bust a move to Vanilla Ice!"
And do you see how they've got the Edward Cullen grey makeup on him? Or is that grey color just his natural skin tone? The boy looks a corpse. A corpse on the way to the junior prom in a cheap vest.
By the way, Sparkles and Kristen Stewart have been on separate continents now for several weeks, if not a full month. Trouble in Vesty paradise? I read yesterday (although I can't find the damn story now) that Kristen is very "moody" and it's driving Vesty away. If he can't handle her moods, how will he be able to handle it when sh-t gets real? I'll tell you, the only thing this boy has in the world is his vest. VEST. That is all.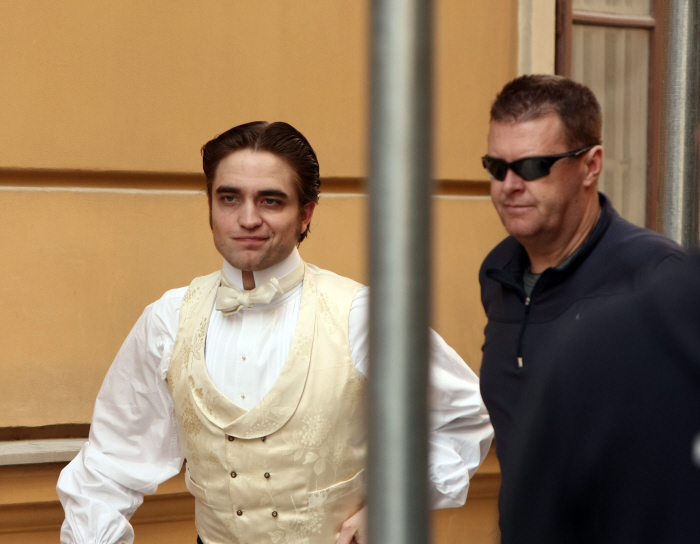 Sparkles in Budpest on April 8, 2010. Credit: INFphoto.com.