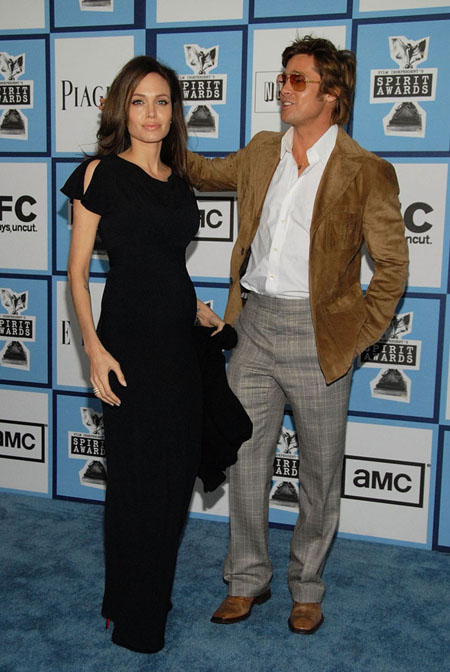 Angelina Jolie elicits strong feelings in a lot of people. The comments on any post that even mentions her name can get out of hand. Some of the worst sniping over Angelina came with the recent story that she was in Iraq in her role as goodwill ambassador for the UN High Commissioner for Refugees. I try to stay impartial and neutral on these Angelina posts, but it doesn't matter what I say because someone always goes crazy with hatred for the woman no matter what she does. If she wears a loose dress she's fueling pregnancy rumors; if she wears a tight dress she's showing off her bump and trying to upstage her husband's ex.
I was personally bothered by some of the comments on the post about her trip to Iraq. Millions of people have lost their homes, have lost family members, and are living in terrible conditions as a result of the war. She's trying to bring attention to that, and no, that doesn't mean that I think she's an f'ing saint, it just means that I care about that cause and think it deserves attention.
Angelina wrote an op ed piece to that was published in The Washington Post today. She spoke about her trip to Iraq and the need for greater resources and more attention to the plight of refugees, many of whom have fled to nearby Syria and Jordan. Some people were criticizing her trip to Iraq, saying that she can't make any difference anyway and just wants the publicity. In her letter, she outlined what the UNHCR wants to achieve, and with her level of fame you can bet that the Presidential candidates and Congresspeople are going to read it.
The tone is understated and sticks to the facts. She could have added a moving story about the plight of people she met, but she just gave details and statistics. With the money that it costs to run the war for just one day, countless people can be helped:
We still don't know exactly how many Iraqis have fled their homes, where they've all gone, or how they're managing to survive. Here is what we do know: More than 2 million people are refugees inside their own country — without homes, jobs and, to a terrible degree, without medicine, food or clean water. Ethnic cleansing and other acts of unspeakable violence have driven them into a vast and very dangerous no-man's land. Many of the survivors huddle in mosques, in abandoned buildings with no electricity, in tents or in one-room huts made of straw and mud. Fifty-eight percent of these internally displaced people are younger than 12 years old…

What we cannot afford, in my view, is to squander the progress that has been made. In fact, we should step up our financial and material assistance. UNHCR has appealed for $261 million this year to provide for refugees and internally displaced persons. That is not a small amount of money — but it is less than the U.S. spends each day to fight the war in Iraq. I would like to call on each of the presidential candidates and congressional leaders to announce a comprehensive refugee plan with a specific timeline and budget as part of their Iraq strategy.
[From The Washington Post]
Celebrities are not automatically experts on the world's problems, but if they care enough to educate themselves and to use their fame to bring attention to important causes, more power to them. Now bring on the flame war.