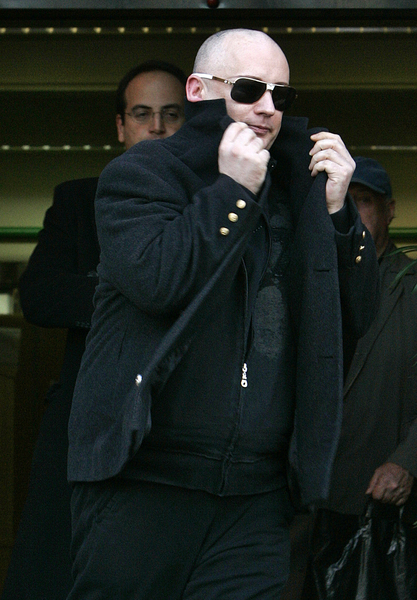 Once upon a time, Culture Club lead singer Boy George was an openly gay icon in an era where famous people lived double lives, because coming out of the closet would ruin their careers (cough George Michael cough). These days, Boy George, aka George O'Dowd, is more well known as a drug addict who likes to order male prostitutes from the Internet, chain them to a wall and refuse to let them leave. Not exactly helping the gay rights movement there, Georgie boy.
George pled not guilty to false imprisonment charges in a London courtroom today, claiming that the young prostitute, Auden Carlsen, was free to leave his apartment at any time.
Boy George has pleaded not guilty to falsely imprisoning a male escort by chaining him to a wall.

The singer and DJ, whose real name is George O'Dowd, is also accused of assaulting Audun Carlsen during the alleged incident on 28 April last year.

Prosecutors claim the 46-year-old former Culture Club frontman chained Mr Carlsen up at his home in Ravey Street, Hackney, east London.

He was released on bail until a trial at Snaresbrook Crown Court in November.
[From BBC News via DListed]< No word yet on how George and his attorney will attempt to explain away the whole "chained to the wall" thing. After Culture Club broke up in the 80s, George became addicted to heroin and nearly died. In 2002, he attempted to revive his career by appearing in a musical on London's West End called "Taboo." The show ran for two years and was a success in the UK, but a Broadway version produced by Rosie O'Donnell didn't fare as well. The US "Taboo" received abysmal reviews and closed after 100 shows. George now works as a DJ, and toured throughout the world last year. At least he has some money coming in to feed his need for sadistic sex acts with male prostitutes. Boy George is shown outside of court on 11/22/07, thanks to PRPhotos.