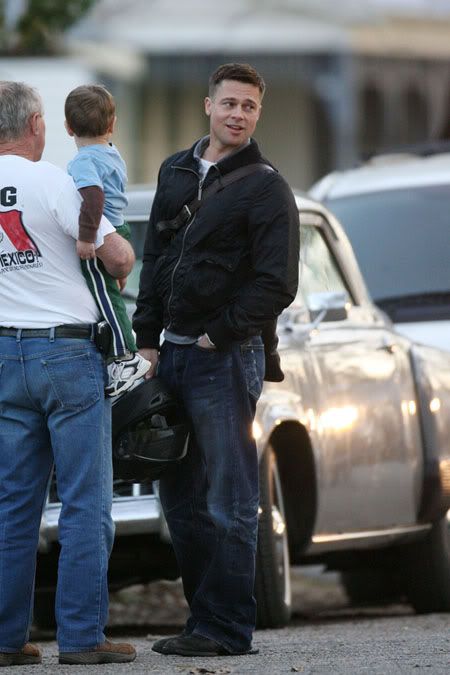 Brad Pitt showed off a new crew cut in Texas yesterday for his role in the film Tree of Life Sean Penn. According to Variety, Heath Ledger was at one point attached to the role, but it was offered to Pitt in early December, before Ledger's death. The plot synopsis on IMDB is empty for this film, and I couldn't find any more details about the story. It's written and directed by Terrence Malick.
It's being filmed in Smithville, Texas, and The Austin American Statesman notes that Angelina has been seen in the town of Barstrop nearby looking for a chef for her family.
Queen of Hollywood Angelina Jolie has been spotted around Bastrop, according to several credible reports.

The actress has also been polling local chefs for a cook to service the Brangelina crew while her partner, Brad Pitt, is making "The Tree of Life" in nearby Smithville. Filming on the Terrence Malick movie is scheduled to start Monday.
[From Statesman.com via US Weekly]
Maybe we know now why Pitt was growing out his hair while cultivating that 70s look for a few weeks. He needed enough on top for his character's goofy cut. I think he looks better than he did with the floppy hair though.
Thanks to Splash News for these photos.