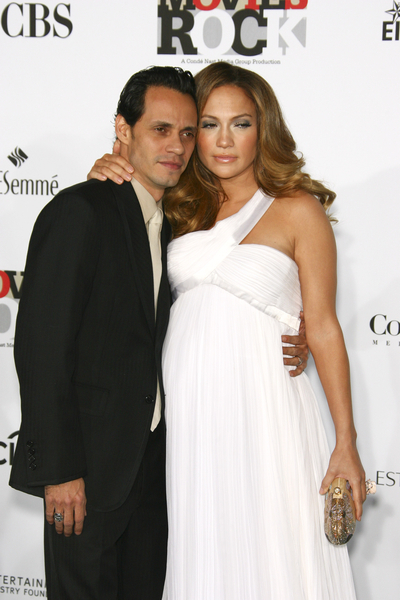 Jennifer Lopez's manager has revealed the baby names chosen for her twins with husband Marc Anthony, born early in the morning on February 22. The boy and girl twins are named Max and Emme, which TMZ points out are coincidentally the names of the brother and sister on the PBS Kids cartoon Dragon Tales. The show also includes some snippets in Spanish to help children learn the second most spoken language in the US. When I heard that they had the same names as the characters in a bilingual children's show it occurred to me that at least they didn't call them Dora and Diego. Max and Emme are cute names that are original while not potentially embarrassing, and sound like a good choice.
More details are coming out about Jennifer Lopez's exclusive birth at North Shore University hospital on Long Island. The tabloids are reporting that the hospital stay cost an estimated $1.4 million and that her party was loud and prevented another woman who had just given birth from sleeping. What's more is that another woman who had her baby a few hours before Lopez came was kicked out of the room slated for the singer when she arrived a little earlier than expected. J.Lo had gone into labor before her scheduled c-section. Security was also super tight on the maternity ward when she was there:
Cynthia Leon, of Kew Gardens, NY, says she was resting comfortably just hours after giving birth to her fifth child, a son named Horatio, when she was told to pack her bags by the staff.

"I was just thinking how lucky I was because the room was so much prettier than the regular rooms; it even had a plasma-screen TV," says Leon. "Then I find out I'm moving to make room for J.Lo!…"

According to first-time dad Tom Sheehan of Lindenhurst, NY, his exhausted wife, Elizabeth, who labored from 20 hours, had a restless night of sleep because of all the cheering coming from J.Lo's suite.

"It sounded like a crowd of people, and they were up all night," says Sheehan. "They were making so much noise, you would have thought they were the only ones on the floor. We're happy for them, but my wife could barely get any sleep…"

According to one source, "J.Lo's guards had the whole place blocked off… It's the most security I've ever seen, especially for a maternity ward!"
[From Star Magazine, print edition, March 10, 2008]
And here's In Touch's breakdown of the cost of the birth, which they put at a whopping $1.4 million:
Hospital suite: $700,000
Private doctors and nurses: $300,000
Security: $300,000
Personal assistants: $100,000
Total: $1.4 million
[From In Touch, print edition, March 10, 2008]
A lot of people were bashing J.Lo for making such elaborate plans for the birth of her first babies, but can you blame her? I was very careful about everything before I gave birth, and even switched ob/gyns and decided to use a birth center on the day I was due as I got a bad feeling from one of the midwives. It's only natural to want to set up a secure environment for your birth.
The Chicago Sun Times is reporting that Lopez has hired six new bodyguards and has closed-circuit cameras in every room in her mansions because she's afraid of a potential kidnapping. She also has "a lifetime supply" of surgical masks that people must wear around the babies and has hand sanitizing liquid dispensers installed around the house. Again, I would have done that. I hated when people, namely strangers, would touch my son's hands and face when he was just a newborn. They're susceptible to a lot of germs at that age. When they get to be a few months it's fine, but you understand mothers being protective of their newborns.