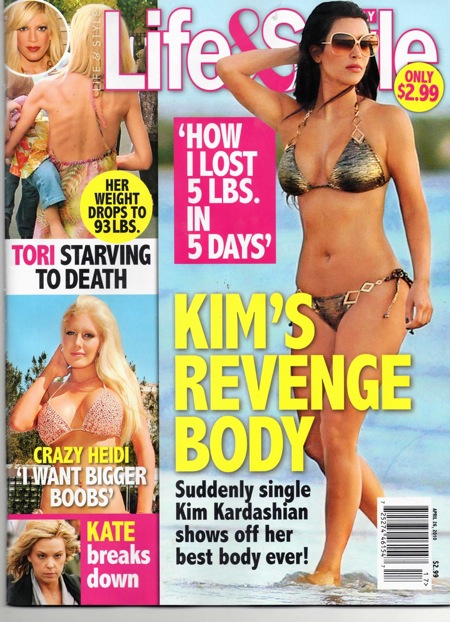 Kim Kardashian is on the cover of Life and Style this week with what has to be one of the lamest excuses for a tabloid cover I've seen in months. They're showing Kim in a bikini with the captions "How I Lost 5 lbs in 5 Days," "Kim's Revenge Body." In case you might suspect L&S of running a misleading cover based solely on photos of Kim in a bikini (like OK! did with Khloe's "Body after Baby" issue) they indeed have an interview with Kim bragging about how she lost 5 pounds in 5 days. Are you kidding me? Now, I could see talking about a 20 pound weight loss over a month (like Khloe did on In Touch) but who cares about 5 pounds in 5 days? Do they think we're that desperate to lose weight that we'll shell out the money for this issue to learn Kim's "diet secrets"? Also, why do they have to paint it like women are getting "revenge" when they lose weight after a breakup? Couldn't they just be focusing on themselves and feeling better? Kim is all over that, talking about how she lost a whole five pounds for her bikini photo op:
Looking good is the best revenge — especially after a breakup! "I've lost five pounds in five days," Kim Kardashian, who recently split from New Orleans Saints star Reggie Bush, told Life & Style at a Bravada activewear launch party in LA on April 7. "I really wanted to just buckle down and get rid of the tiny bit of excess weight I was carrying." She also managed to make a statement, sending a message that in the wake of her break-up — and amidst rumors that Reggie had cheated on her — she has more confidence that ever. "It gave me a lot of confidence with my body," Kim confides to Life & Style. "I work out to feel good about myself — and sure, it doesn't hurt if someone notices."

While Reggie spent April 9 and 10 in Las Vegas getting close to country star Jessie James, Kim hit the beach and showed him precisely what he was missing! "I used to be so shy and insecure walking around in a bikini doing shoots and things," Kim's told Life & Style. "It's amazing how much better I feel and I was really proud of myself for just sticking to my diet." To lose the pounds, Kim cut out all carbs and focused on eating lean proteins, leafy greens, fruit and stuck to her QuickTrim routine. The reality star was also able to add some variety to her workout regimen without too much effort. "I made sure that in addition to my gym workout, I did freestyle cardio outdoors," explains Kim. "I went running or made sure I did as much walking as I could. I really kept active.""
[From Life & Style, received via e-mail]
Ooh she did "freestyle cardio outdoors." And I'm not buying that Kim was "so shy and insecure" in a bikini before her whopping 5 pound weight loss. We've seen her in bikinis for years now and she's looked anything but shy. She's promoting herself and that QuickTrim crap with this cover. I hope Life & Style didn't pay her for this interview. Does she have enough fans who are interested in how she lost a whole five pounds? Also, is this her way of showing Reggie that she's getting over him – by posing in a bikini on the cover of a magazine? She's also been tweeting pictures of her boobs and ass regularly as if to say "this is what you're missing." It's kind of sad and desperate, really.
Here's Kim in Miami on 4/1/10. She must not have liked how she looked in these photos so she lost 5 pounds and posed again. I don't see the difference. Credit: BRJ/Fame Pictures.
Here's Kim on March 31: