In her recent Harper's Bazaar interview, Gwyneth Paltrow confessed that she's a pretty big drinker, and she was making a conscious decision not to have wine as she was interviewed, saying: "I'm not having anything to drink. I'm usually such a wino, they must be wondering what's going on." I didn't put two and two together, but could it be that Gwyneth is quite a drinker? And that all of her snotty problems are about her being a "wino"? No. She's always had this snotty personality. The wine has nothing to do with it, although it's an interesting little sidenote, that she's a big drinker. Anyway, I was reminded of that quote because this week's GOOP newsletter is all about wine. The full GOOP newletter is here, and here's Gwyneth's intro:
Pairing the right wine with your meal can be so difficult; there are so many flavors to balance and courses in the meal to consider. Scratch your head no more, we've asked for suggestions from a team of knowledgeable wine connoisseurs – big-time sommeliers, an at-home aficionado and an insider in the business.

Love, Gwyneth
[From GOOP]
After that, Gwyneth proceeds into an epic Q & A with FIVE sommeliers, asking a litany of questions about what wines to drink with what foods. It's kind of funny because Goopy usually doesn't do this kind of epic legwork – she's the master of cut and paste, generally just letting whatever "friend" take over the newsletter. But she's all over it when it's about wine. Maybe she does have a drinking problem…?
Lastly, Gwyneth was recently talking about her work on the second Iron Man film, and how the producers made her train and train for her (giggle) ONE fight sequence:
Hollywood star GWYNETH PALTROW was forced to have her "booty kicked" for her role in IRON MAN – because she wasn't fit enough for the film's action sequences. The actress was forced to undertake a gruelling fitness regime for her part as secretary Virginia 'Pepper' Potts in the comic book adaptation, despite having only one fight scene in the entire movie.

She says, "I only have one action sequence at the end but they wanted me in tip-top shape so I did a lot of working out. "I did a twice-a-day nightmare, super-hard cardio. I had this amazing trainer and she kicked my booty totally."
[From Contact Music]
Yeah, I think the producers were probably like, "Damn, we need to give Gwyneth something to do or else she's just going to wander around drunk, annoying people with her snottiness." And why do I find it so annoying that Gwyneth says things like, "she kicked my booty, totally"? Ugh. Why not just "ass"?
Oh, and Gwyneth is also going to slum it on The Marriage Ref on an upcoming episode. Apparently, she was making jokes about Brad Pitt and marriage counseling.
Here are some photos of Gwyneth last week with her mom and her kids. Moses is growing up so much!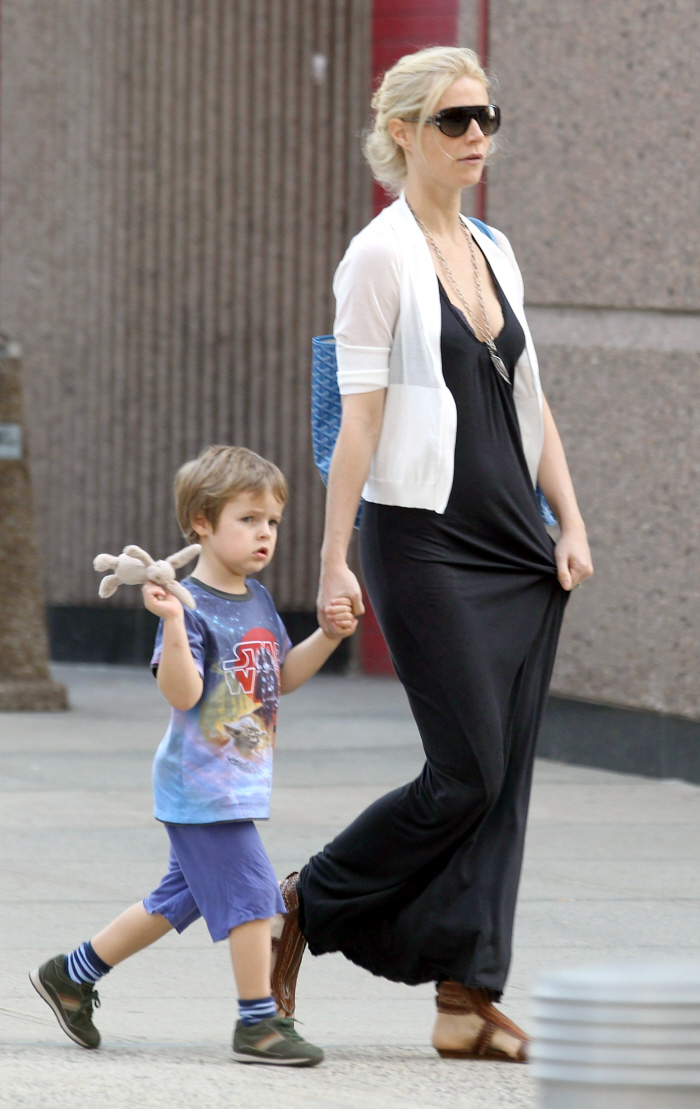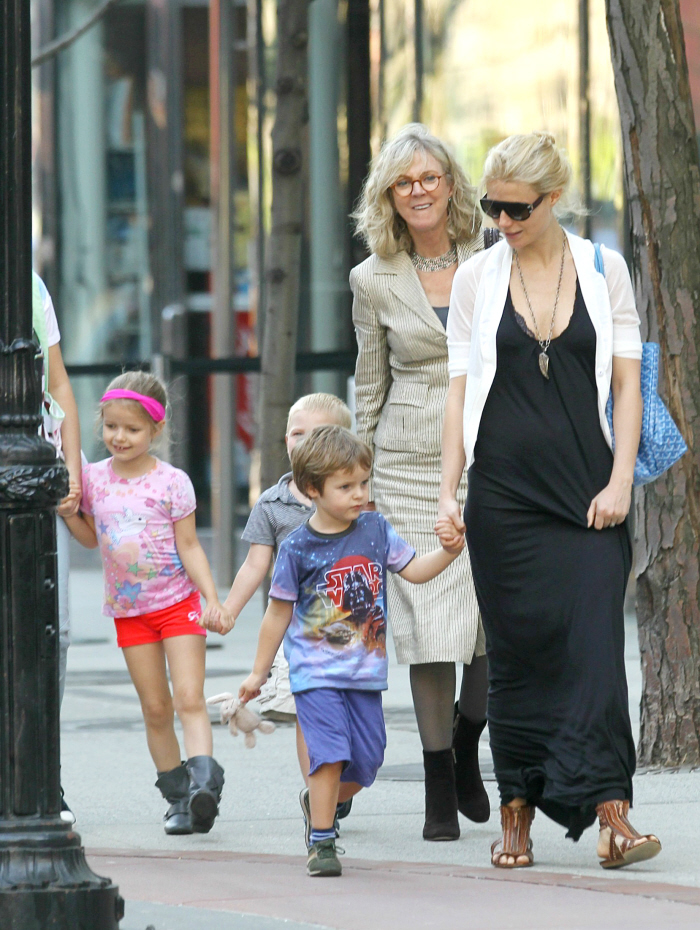 Gwyneth with her mom and her kids on April 7, 2010. Credit: INFphoto.com