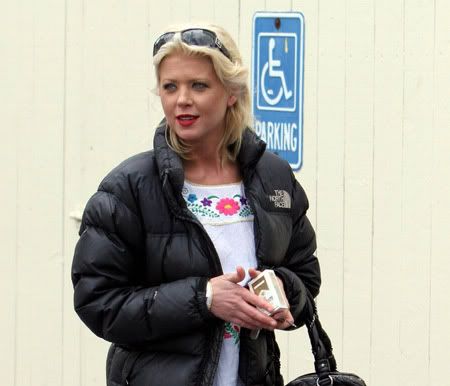 Tara Reid has lamented the fact that people don't take her seriously as an actress after she's photographed stumbling all over town in various states of undress. Well it looks like her prayers have been answered and she no longer has to resort to swiping swag, because her brother has created a role custom made for her as the girlfriend of a professional bowler.
Reid's sibling, Tommy – heretofore best known as a producer of exactly one film – is calling the shots on 7-10 Split, a comedy penned by Ross Patterson. Tara and Ross will star in the film, which follows an aspiring actor who becomes the Tiger Woods of bowling, shaking up the competition. Together he and his girlfriend shove a little edge back into the ball-and-pin world.
A source at ONTD reports that producers were looking for unpaid extras. If they can't even afford to pay a paltry sum to the poor extras, what's the film going to look like? It's gonna suck…
Here's Tara rocking the early 90s makeup with a friend outside of Cafe Med. This guy is probably gay, as you can see in these earlier pictures of him with the party girl.
Pictures [via]