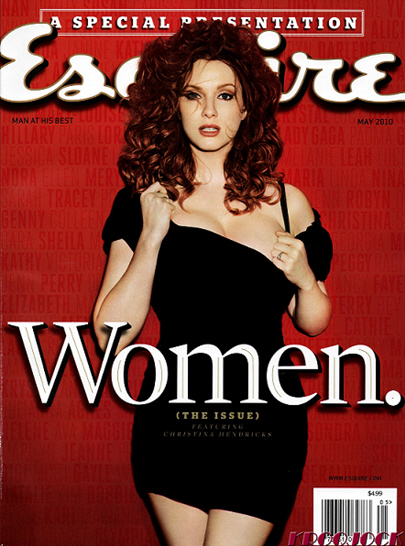 The gorgeous, fabulous, lovely and amazing Christina Hendricks garnered the May cover of Esquire Magazine. What's that? You didn't even recognize her? Yep. Even though Christina was voted the "best-looking woman in America" by Esquire voters (once again, not to be confused with Esquire's Sexiest Woman Alive, or Esquire's Women We Love). Women who resemble this Photoshopped monstrosity more than Christina Hendricks: Ann-Margaret, Lindsay Lohan, Julianne Moore, Debra Messing, Tiffany, and Amy Adams. Christina was like my eighth guess.
Should we just be happy that the lovely Christina took the honors rather than someone grossly overrated (cough cough Megan Fox cough)? Sure. Although Megan is still in the mix, which goes to show you that some men still have pretty crappy taste:
The radiant red-haired bombshell from the TV show, "Mad Men", with the insanely massive knockers is the May 2010 cover girl for Esquire Magazine. In the issue, the magazine took a survey comprised of over 10,000 women and asked them various questions from Politics to sexuality.

For the choice of "Best-Looking Woman In America", over 30% of the vote went to Christina Hendricks (hence the cover)! The other 17% of the "Best-Looking Woman" votes went to Adriana Lima (who is NOT American, mind you) and 14% went to Megan Fox.

In the article, Christina gives out her own personal notes on how to treat a woman. ["No man should be on Facebook" is one of her pieces of advice.]

Also, another question that was asked in the survey was, "If you are/were a lesbian, which of these women would you most want to sleep with?" A whopping 31% of the votes went to actress Zooey Deschanel followed by 20% for Megan Fox and 14% for Adriana Lima. Really? Lesbos prefer Zooey over Megan Fox?
[From Celebutopia]
Zooey Deschanel? No disrespect to Zooey (who I do like, in general), but that alone makes me think that this whole process was rigged. I know wonder if 30 % of Esquire dudes who vote really adore Christina. Maybe they seriously have no idea what my Joanie Holloway really looks like? Here's a sample of Christina in some red carpet candids:
And a closeup of the Photoshop disaster: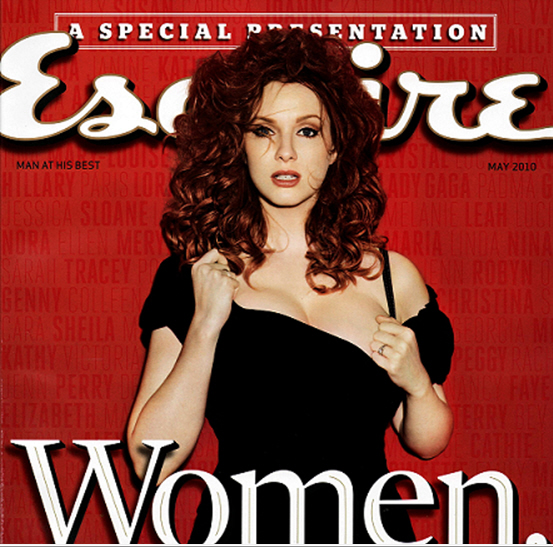 Cover courtesy of Celebutopia.