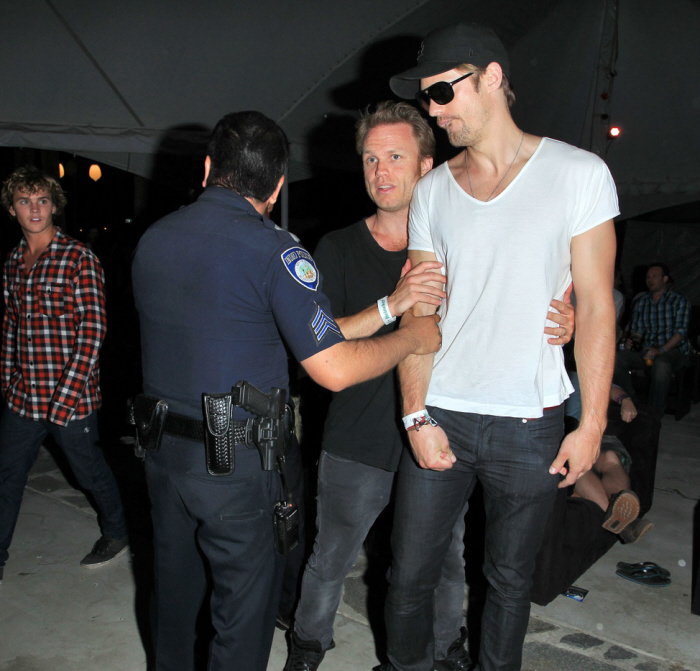 Alex Skarsgard is still with that bitch Kate Bosworth. They were at Coachella over the weekend, and Kate made sure they were photographed the whole time. You know what pisses me off? Many of the photo agencies are describing Alex as "the actor boyfriend of Kate Bosworth". Like he isn't known for anything else – like they couldn't say "True Blood hunk" or "famous sexy Swede". Anyway, shock of all shocks, the paparazzi were taking lots of photos of Kate and Alex, and at one point Alex got into some kind of altercation with a photographer. Alex had to be "restrained" by a police officer, and of course other paps got the photos. They even got a photo of Alex's clenched fist, and of him making a really dumb face (I have no idea what he's doing there, but it's not very attractive). In the end, no one was arrested. Here's more: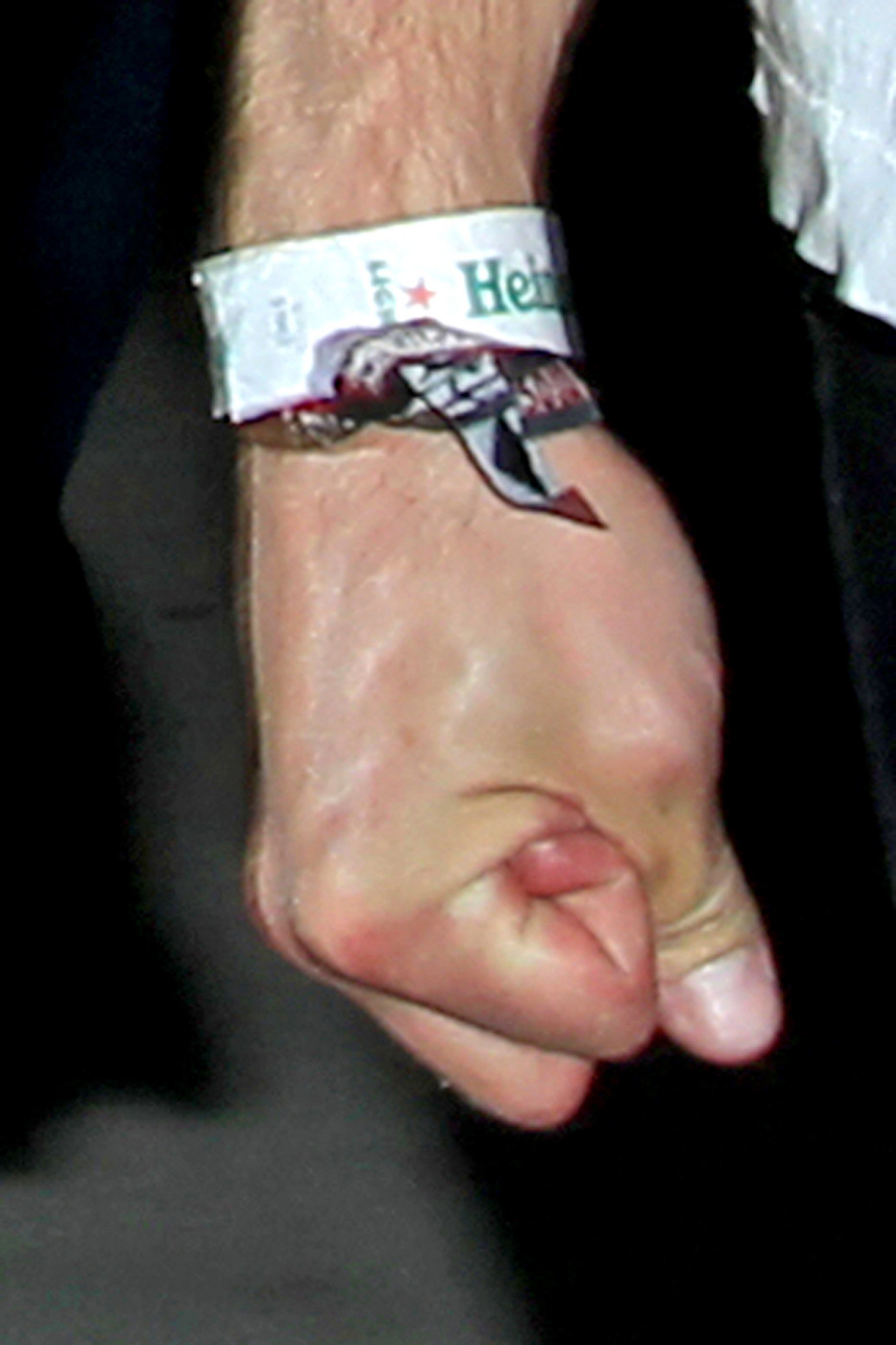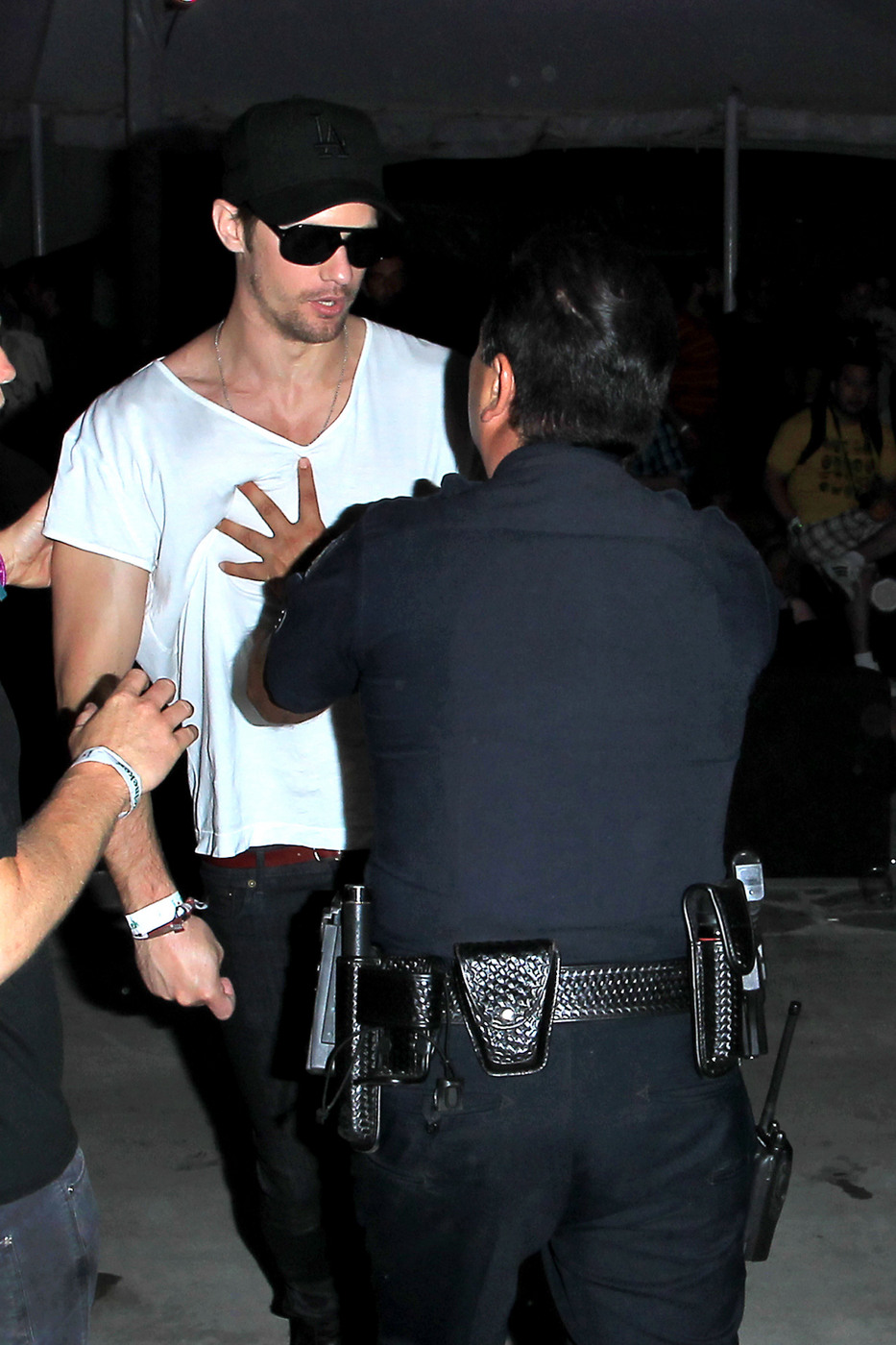 True Blood star Alexander Skarsgaard was restrained by police during Saturday's Coachella Music Festival, in Indio, Calif., according to a report.

Pacific Coast News reports the 33-year-old actor was photographed being held back by a police officer, fists clenched, after he became angered by a paparazzo taking shots of Skarsgard and rumored girlfriend Kate Bosworth.

Skarsgard was calmed down by the officer before the situation escalated and no arrests were reported.

Earlier in the evening, Skarsgard was spotted giving Bosworth, 27, clad in a blue tie-dye print halter dress, a ride on his shoulders.

The Coachella Valley Music and Arts Festival concludes Sunday.
[From Us Weekly]
Alex is known as an extremely easy-going guy, so I have no idea what happened. I have two guesses, and they are not mutually exclusive: one, Alex might have been drunk or stoned, and that's why he wasn't his normal easy-going self, or two, the paparazzi were truly annoying him, in which case Alex should talk to his girlfriend, who has always been one of the B-list celebrities who are rumored to call the paps on themselves. I mean, it wasn't Kate Bosworth who was looking annoyed. She's probably going to get some auditions from this incident, and being seen with Alex.
Ugh. Alex really needs to dump her.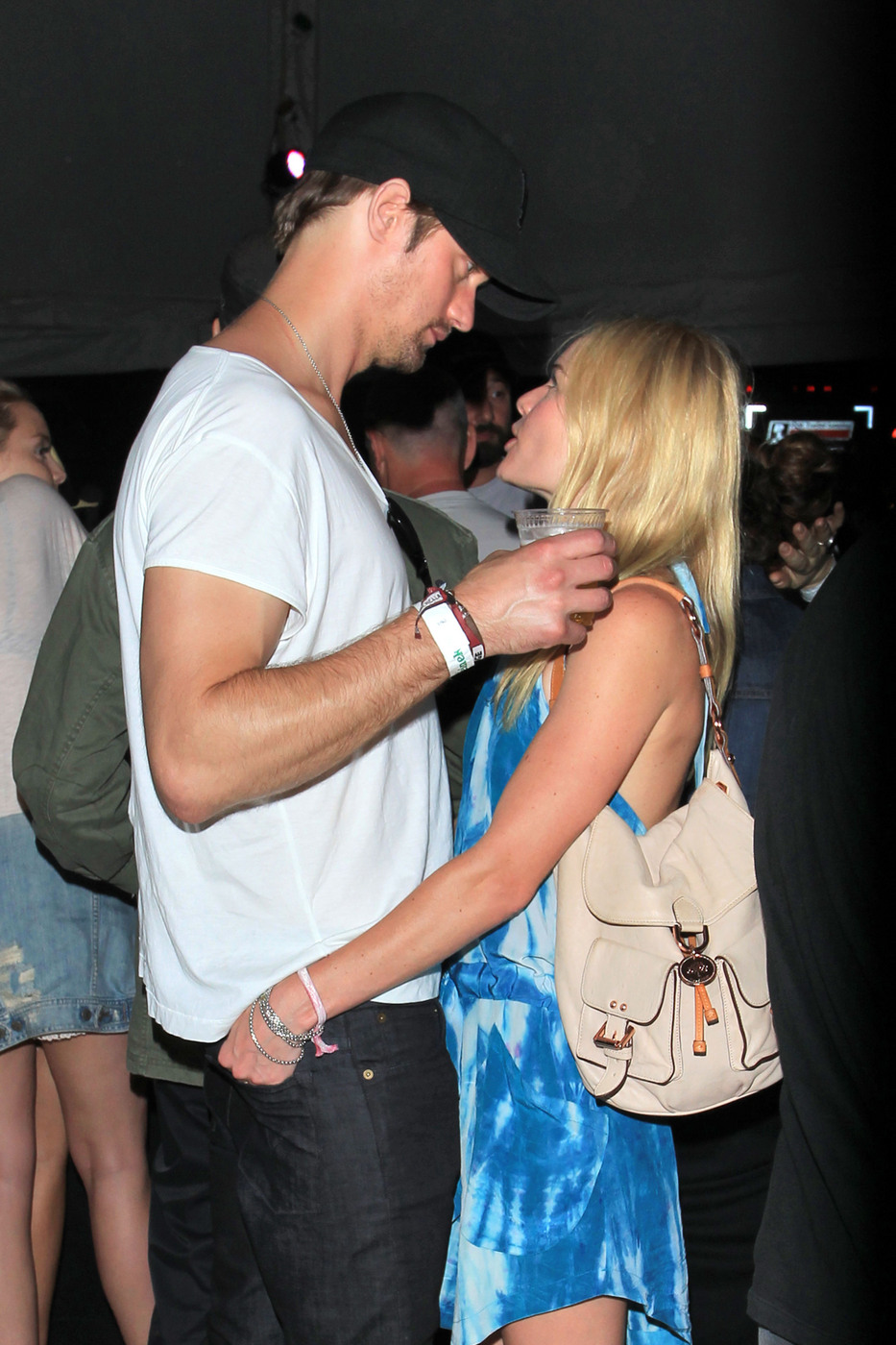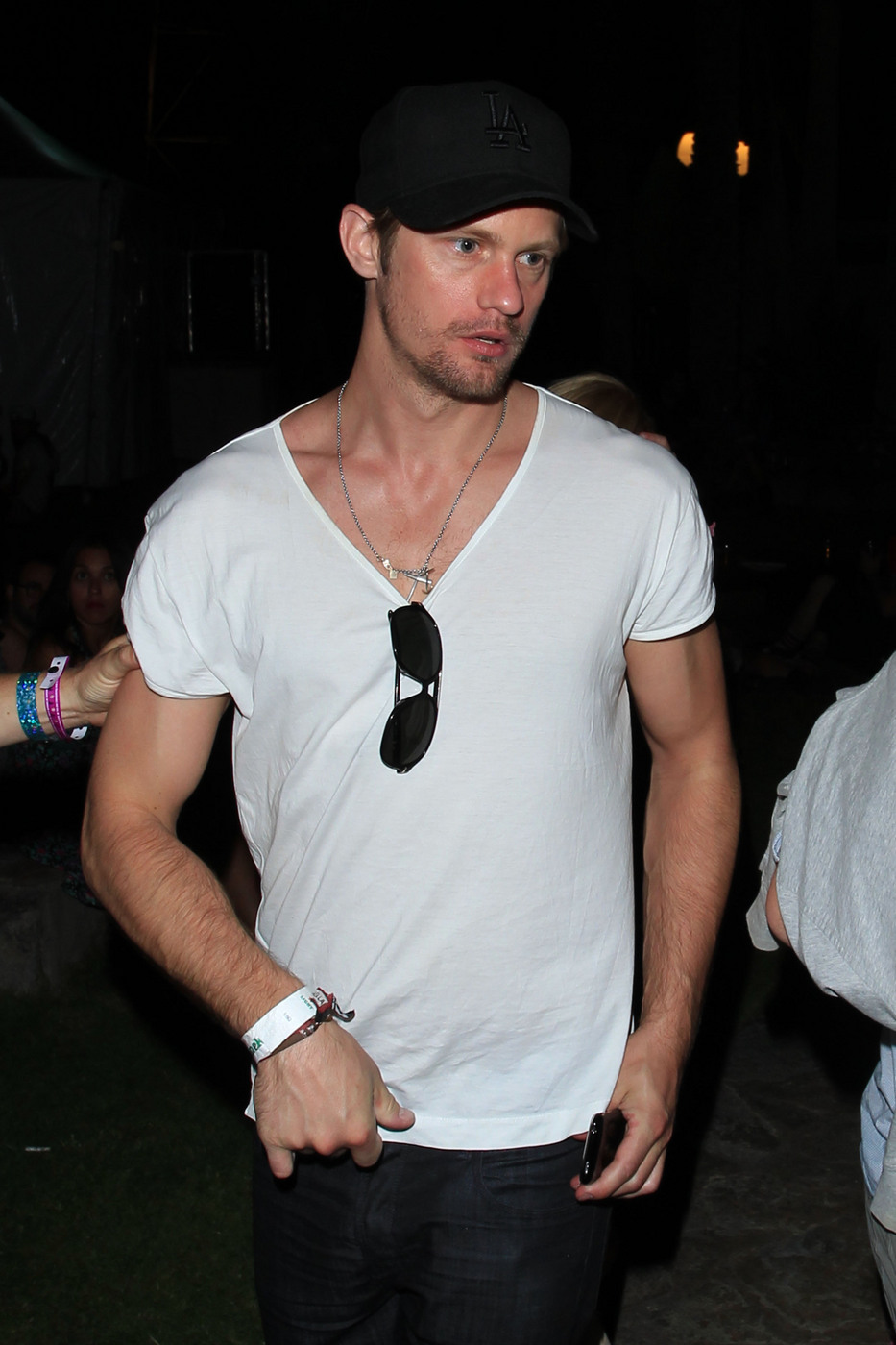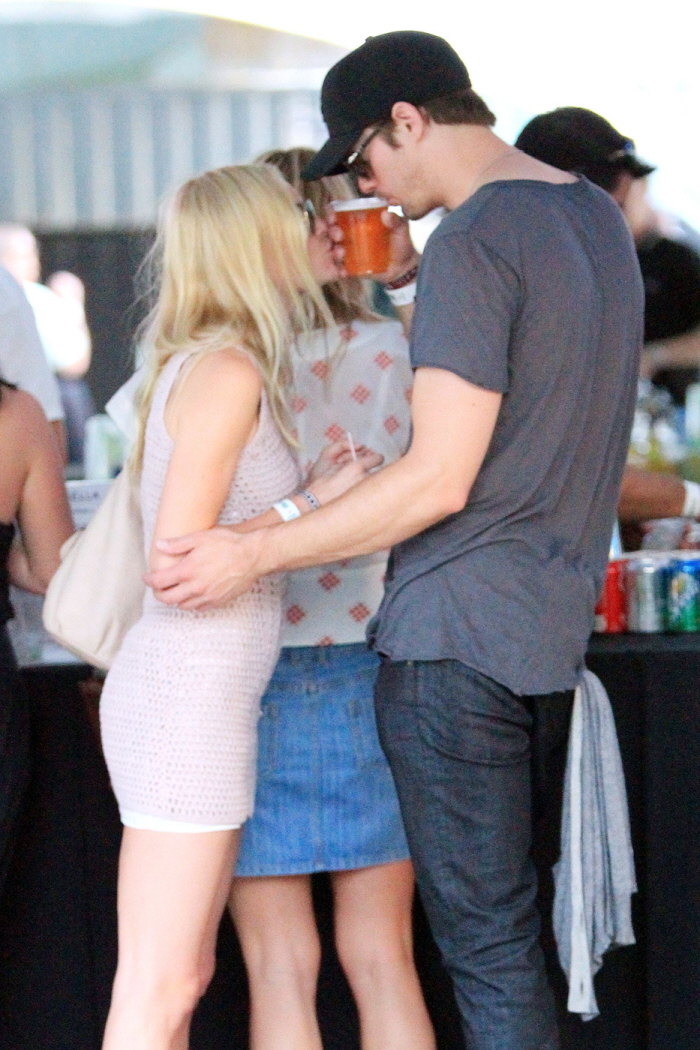 Alex and friends at Coachella on April 17, 2010. Credit: Pacific Coast News.