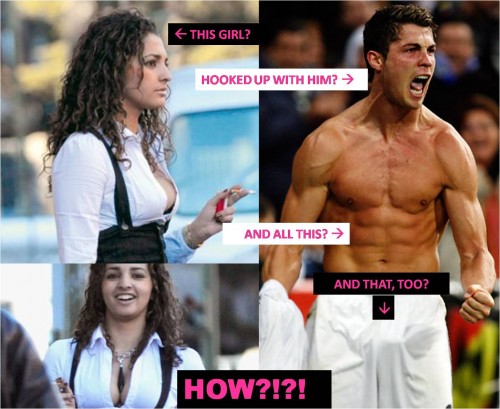 Header image thanks to Kickette.
This story came out last week, which is ages ago in gossip terms, but it's new to me and I found it mildly amusing enough to repeat. Apparently a Spanish news outlet paid a 21 year-old woman 4,000 Euros to seduce and bed soccer/European football star Cristiano Ronaldo, 25, of Real Madrid. Ronaldo most recently made headlines for providing some post-breakup solace to Kim Kardashian, and he's been previously linked to Paris Hilton. According to E! Online, things are getting serious for Kardashian and Ronaldo, but Kim might want to rethink her latest choice of a boyfriend. Ronaldo is not the hardest guy to get into the sack, according to this random woman who was paid to kiss and tell. What's more is that he wooed her by telling her that "fat" women give good oral. The woman in no way looks fat. She said that Ronaldo kept the condoms in his shoe and that they only had enough to have sex two times. The third time he didn't use a condom. She also called him well endowed.
A Spanish woman says she was paid nearly $5,500 by a Spanish media outlet to seduce and bed footballer/Armani underwear model Cristiano Ronaldo.

Naya, 21, says his performance in the sack was a 9.5 out of 10–and they romped three times on February 21 after his team's match against Villareal. She even claims that Ronaldo is very well endowed and carries condoms in his Dolce & Gabbana sneakers, though she admitted they engaged in unprotected sex on the third encounter. So how did this average-looking role model for women manage to bed one of the most desirable sports stars? She says it's because he believes fat chicks have God-given oral skills…

Her story (ENGLISH TRANSLATION):

"Cristiano Ronaldo told me: 'Fat girls suck it well.' That's why he chose me.

"He [did] me three times… it was a 9.5, I wouldn't say he gets 10 points.

"He carries condoms in his Dolce & Gabbana sneakers, but the third time we did it without one.

"You can't compare Ronaldo's abs to those of Paquirrín. Paquirrín is a sack of potatoes.

"If his [you know what] was a pizza, it would be a family-sized one."

SPANISH TRANSCRIPT:

"Cristiano Ronaldo me dijo: 'Las gorditas la chupan muy bien'. Por eso me escogió a mí.

"Me echó tres polvos de 9.5, por no decir de 10 puntos.

"Él llevaba los condones en sus botas tejanas Dolce&Gabbana, pero el tercero lo hicimos sin.

"No se pueden comparar los abdominales de Ronaldo con las de Paquirrín. Paquirrín es una bolsa de papas.

"Si su miembro fuera una pizza, sería una pizza familiar".
[From Tabloid Prodigy, original Spanish language report here]
You picked yourself a real winner there, Kim. At least he practices safe sex 2/3 of the time, and that still counts, right? This woman sort of shares some similar characteristics with Kim Kardashian – she's a brunette, she's normal sized and she'll gladly accept money in exchange for sharing personal information with the press. Then again, he also got with Paris Hilton several times. Maybe Ronaldo just has a taste for fame wh*res.