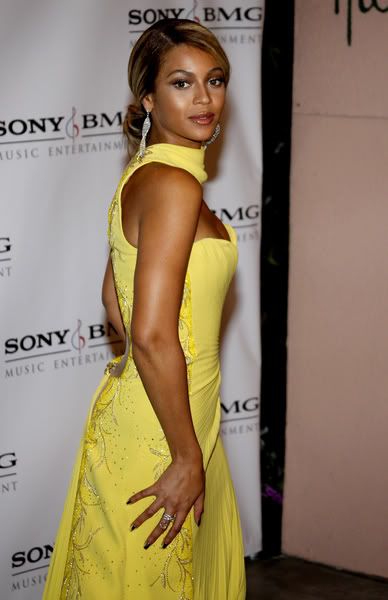 Another week, another "Beyonce and Jay-Z are engaged or about to be married" story. Back in January, there was a rumor that they were secretly married at Georgio Armani's house in Paris over the Christmas holidays. Both Jay-Z and Beyonce were sporting new matching ring-finger tattoos of the numeral IV, so people thought it must be symbolic of some kind of commitment, marriage being the logical assumption. Beyonce was rumored to be pregnant at that time, too, and that didn't pan out. It seems like a lot of stories are spread about these two based on conjecture.
The singer and media mogul have been together for five years and despite all the rumors they haven't split up, gotten engaged, or secretly married as far as we can tell.
Now there's a story that Beyonce was seen out with a giant sparkling diamond ring on her left ring finger, but that she quickly stashed it in her purse when witnesses noticed it:
Beyonce, 26, and her longtime beau, Jay-Z, 38, had tongues wagging at Butter nightclub in NYC on Feb. 18. "She was wearing a huge diamong ring on her ring finger," says an eyewitness. "When she noticed that I and some others noticed the rock, she quickly hid her hand behind her left elbow. Then she reached behind her to where her bag was, and after placing her hand in her bag, the ring disappeared!"
[From Life and Style, print edition, March 10, 2008]
Maybe she does have a big old diamond ring, but who knows if Jay-Z bought it for her or if it means that they're engaged. JayBird noted in her post about their supposed "secret wedding" over the holidays that they've been in a stable relationship for a while and it seems to work well for them. If they want to get married or not that's their decision.
Jay-Z was rumored to have had a fling with Rihanna back when she first hit the scene, but he was also mentoring her music career and those type of rumors are only natural given their working relationship. Rihanna supposedly got pissed at Jay-Z at a party after the Grammys this year and had words with him. But Jay-Z mocked Rihanna's accent when he was presenting at the Grammys, and it seems likely that she was mad at him over that and it wasn't a lover's spat or anything like that. She was at the party with Chris Brown. Rihanna recently addressed the rumors that she was having an affair with Jay-Z, saying that it made her uncomfortable that people thought that, and that Jay-Z told her just to ignore the stories.
Jay-Z is about to embark on a 25-city tour with Mary J. Blige starting March 22. They will play five separate dates in NY alone. Tickets for the first four performances sold out within hours.
Beyonce is shown at the Grammy Awards and at the Sony Grammy After Party on 2/10/08, thanks to PRPhotos.