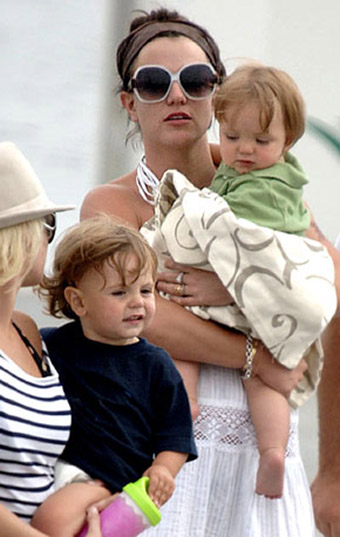 Since she regained limited supervised visitation with her young sons a little over a week ago, Britney Spears has dutifully spent time with them, and could end up being allowed to visit them as often as three times a week. However according to Page Six, both Sean Preston and Jayden James are having a hard time adapting to having her back in their lives, and are suffering some of the traditional emotional ups and downs that one would expect.
Britney Spears' visits with her kids have been emotional for the whole family. Sean Preston has been sleeping in the same room as father Kevin Federline lately because he's been having nightmares.

According to insiders, Preston, 2, also cried for his dad at first when Britney picked them up, but Kevin soothed him and he settled down.

"Jamie told Kevin that Britney handled the visit well. She actually did cry, but that was only because Sean cried when she took them from Kevin," says the insider.
[From Page Six]
The article goes on to say that the boys are confused by their mom and don't have that feeling of safety that kids needs. This is the main reason that Jamie Spears or a psychologist is required to be there the whole time. Jamie is said to be very good with the boys and they love their grandpa. He has seen them consistently, often visiting them at K-Feds house when Britney couldn't. The "source" also says that Britney doesn't really know how to give her sons what they need, and instead views them in terms of what she enjoys, which is dressing them up and showing them off.
Part of the problem is that Britney treats her sons more like dolls than children. "She dresses them for show and tell," says the insider. "She likes to show them off, but not give them the nurturing they need. I understand she is working on this part of her motherhood with her psychiatrist."

Other sources tell us that the kids are said to be playing a "pivotal role in her progress."
"Brit has expressed interest in becoming closer to the boys. Kevin hopes she is talking from her heart."
[From Page Six]
Britney has supposedly made a deal with her parents that as long as she works hard in therapy and with her sons, she won't have to go back into the hospital. It sounds like it's good that they've made some sort of agreement so Brit knows exactly what she needs to do to avoid negative consequences. It's really sad that her sons have to be a part of her "treatment," and getting her life back together. Obviously it's probably best for them to have their mother in their lives in the long run, but it sounds like in the short run it's pretty emotionally trying for them. Let's hope Britney is not actually pregnant again – despite the rumors and every growing stomach – and that she can just focus on getting her life back together.
In other Britney/Jamie Spears news, today it was reported that Jamie is now allowed to draw $2500 from Britney's accounts for acting as her conservator. That's $10,000 a month. He definitely deserves to be paid for all his hard work, but the downside is that now people can question his motivations, whereas before that wasn't as easy.