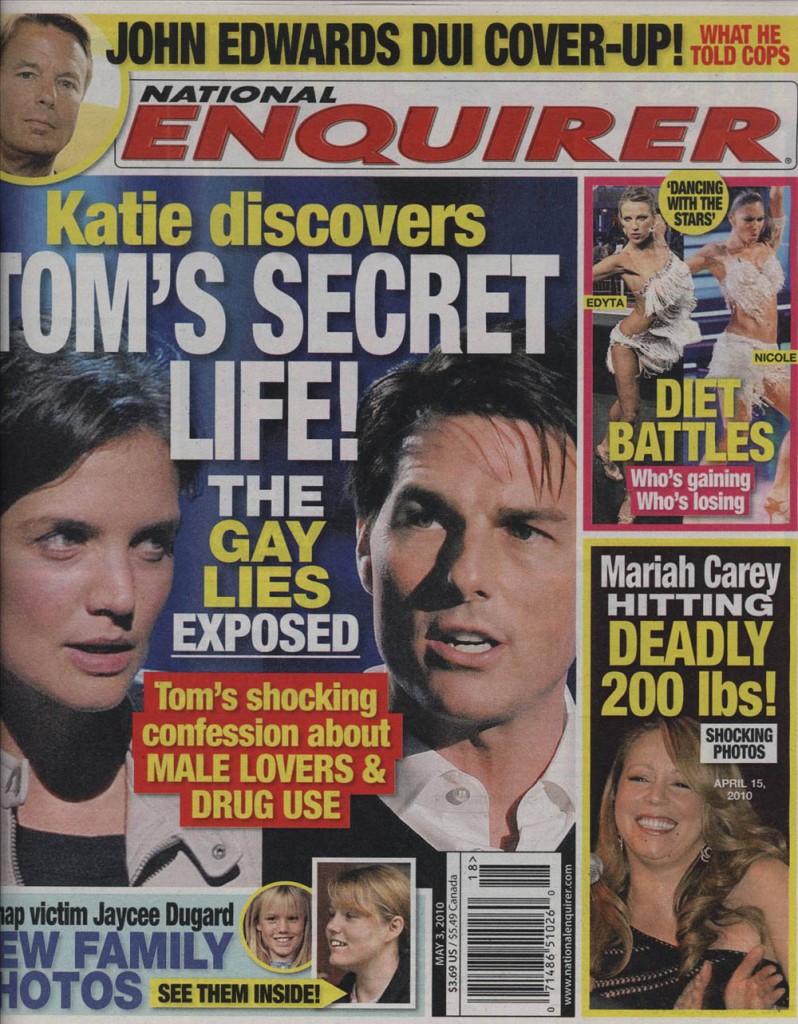 The Enquirer is running a typically misleading cover story this week titled "Katie discovers Tom's Secret Life: The Gay Lies Exposed." Inside, the story covers a new book by a high up Scientology defector that's interesting not for the vague allegations about Tom Cruise but for the way it exposes and confirms the very criminal way the cult does business.
I've said this before and I should mention it at the start of this article – as far as I am aware, there are no provable allegations that Tom Cruise has ever had a same sex encounter. These rumors have been around for years, and I've done some research into them. I believe that the rumors started with convicted felon and notorious double-dealing private investigator, Anthony Pellicano. (Read this article and the linked articles there for background.) Pellicano regularly spread gossip about celebrities, only to go back to the celebrities and solicit their business in order to clear up the rumors. This is just my take, and maybe we'll never know, but "Tom's shocking confession about male lovers and drug use" isn't even alleged in the book that the Enquirer reports on. Here's their report, which is about a book by ex Scientologist Amy Scobee called Scientology: Abuse at the Top. Despite the cover, the Enquirer story is actually sympathetic toward Tom and discounts the book. (Some background on how Tom Cruise's lawyer has responded, along with more details of the allegations in the book are here.)
Tom Cruise confessed to his wife Katie Holmes his secret anguish over incredible claims of gay love affairs and outrageous allegations he used drugs, sources tell The Enquirer.

The Hollywood icon bared his soul in a bid to set the record straight about his private life, insiders say, but now the nightmare rumors have come back to haunt him in a nasty jab on an animated TV show and a new book about his religion Scientology.

During his emotional heart-to-heart with Katie, the 47-year-old "Top Gun" star blasted the gay lies and false claims of drug use that have tainted his straight-arrow image for decades.

"Tom recently sat Katie down and made it absolutely clear to her that there's no truth to either the gay stories about him or the rumors in the new book that he's used drugs," an insider divlged.

"He got really emotional and told Katie, 'It's all lies!' I think she was shocked at the rumors that Tom has had to deal with over the years…"

Now Tom is gearing up for a legal fight against bogus claims about drug use made in a bombshell new book written by a former high ranking member of Scientology…

[Author] Amy Scobee claims that Cruise was "gung ho" to join the church's elite "Sea Org" group, but didn't qualify dur to his "drug history."

Scobee offers no further proof of Cruise's "drug history," and was hit with a letter from the actor's high-powered attorney Bertram Fields that blasted her claim as "demonstrably false and defamatory."
[From The National Enquirer, print edition, May 3, 2010]
The "animated TV show" referenced in the text above is of course South Park. They had a 200th anniversary special on April 14 that had Cruise working at a fudge factory, uh "packing" and of course there's the Trapped In The Closet episode from 2005.
Star Magazine actually has a better account of the book, and includes some dirt about how Scientology employees of celebrities would regularly gossip about their famous employers. People who "audited" celebrities also regularly shared information about the potentially embarrassing and damaging secrets the stars shared. (Auditing is the Scientology practice of eliciting confessions, a tactic used by many cults in an effort to control members.)
Tom's alleged drug use
In the book, [Scobee] claims one high-ranking official, church leader David Miscavige's wife, Shelly, even told her about Tom's alleged history of drug use Tom, now 47, was barred from joining the Sea Organization, an elite group within Scientology, she said.

"I'm not going to repeat was Shelly told me, because then I'd be just as bad as them," Amy [Scobee] says, "But I can say that smoking pot or doing cocaine wouldn't be enough to disqualify you from the Sea Org. And medicines wouldn't either," she claims.

Another favorite topic of conversation among church officials was the sex lives of their celebrity members, Amy says. At one point, "a well-known spokesman for the Church of Scientology" was found to have a gay sex tape.

Several church members knew, according to Amy. "That was crisis time," she explains. "Scientology looks at homosexuality as a disease that needs to be handled, and everyone was saying that we had to do something about that man.

"I don't have any firsthand information that Tom has ever been gay…"

Staff spied on Tom and Nicole Kidman for Scientology leader David Miscavige
From the maid to the babysitter, nearly every single person who entered the home Tom shared with Nicole came from the Church's ranks, she notes. And while he was allegedly aware – and even had final say on who would fill the positions – he had no idea that all of them were spying on him.

"Of course, they were definitely reporting back to David," Amy reveals. He knew everything that was going on in the house. He kept tabs on everything that Tom and Nicole were doing."
[From Star Magazine, print edition, May 3, 2010]
I bet that past use of psychiatric medication would disqualify you from Sea Org, which would perhaps explain Tom's crusade against antidepressant drugs – it was personal. There's nothing damning about using antidepressants, except if you're a Scientologist.
There have been allegations in the past by former high ranking Scientology officials that David Miscavige personally arranged Tom's divorce from Nicole Kidman. Tom Cruise's former auditor, Mark Rathbun, wrote that "in 2001 through 2003 Miscavige personally assigned me as Inspector General RTC – the second highest ecclessiastical position in the religion – to coordinate Tom's divorce from Nicole and to serve as his auditor." There's plenty of dirt about Cruise and the church of Scientology, and it's much worse than some tame allegations that he had same sex encounters.