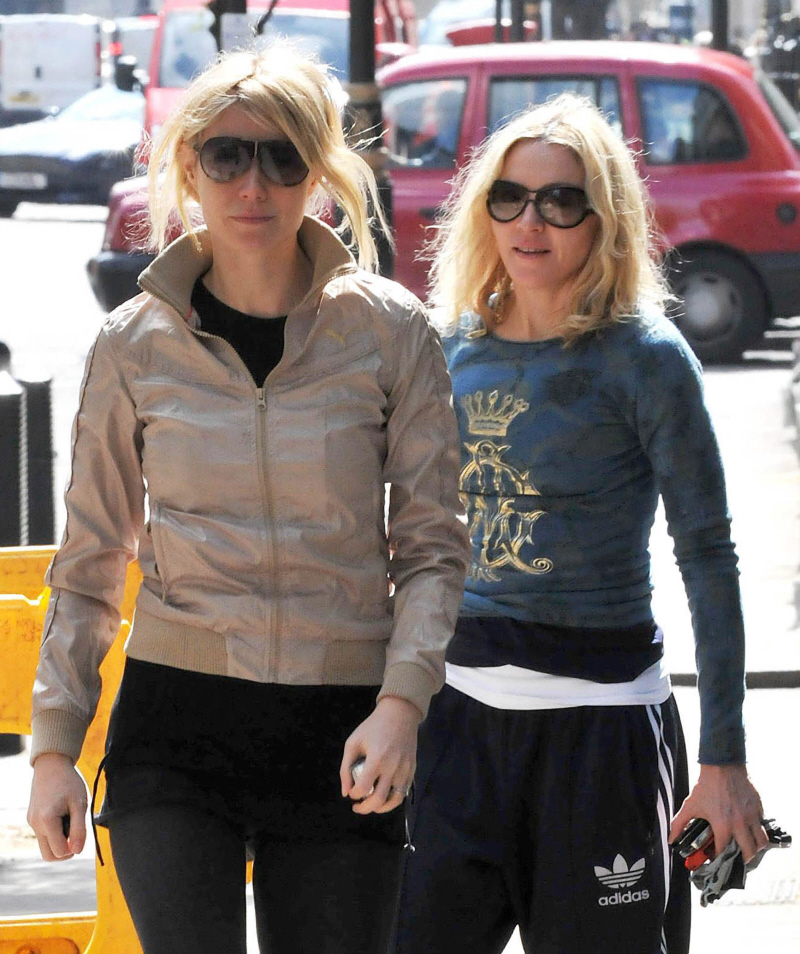 Gwyneth Paltrow and Madonna have been friends for years. I've always doubted how close they really are, and if they're the kind of friends that really lean on each other in times of hardship, and celebrate each other in times of triumph. I've always gotten the vibe that they're more like "professional friends" – as in, they're two women with high profiles who like to be seen with each other in public, like what the other brings to the table, press-wise and accomplishment-wise, and they like competing with each other.
There have been rumors of a rift between the two women before. Last year, there were reports that Madonna was pissed at Gwyneth after Dame Goop talked about Madge's divorce to Guy Ritchie in the press. There was also some stuff about Gwyneth and Madge fighting over professional con artist/trainer Tracy Anderson, and whether they were going to be investing in Anderson's gym chain. The most recent reports of a rift came from Gwyneth's own Goop newsletter – several weeks ago, she devoted a newsletter to "friendship divorce," asking: "What do you do when you realize that although you may have years of history, and found real value in each other in times past, that you kind of don't like a friend anymore? That, after time spent with this person, you feel drained, empty, belittled or insulted. My father always used to tell me that, 'you can't make new old friends.' How do you distinguish if someone in your life makes you change for the better or if you are better off without them?" Snap! Many theorized that Dame Goop and Lady Madge were on the outs, and Gwyneth wanted a "friend divorce".
The latest report of their "chilly" relationship comes from this week's In Touch Weekly. They claim the fight has something to do with a video…?
The relationship between Madonna and one-time best friend Gwyneth Paltrow has gotten pretty chilly, and according to an insider, neither seems ready to make the first move toward reconciliation.

"Madonna and Gwyneth are both Type-A personalities," her pal says. "They had a silly argument weeks ago, and now they both seem to be holding a grudge."

The squabble was over business: Madonna wanted Gwyneth to work on a video with her, and Gwyneth refused, says the pal, adding, "They were also working on a book together that went nowhere."
[From In Touch Weekly, print edition]
You know what this sounds like to me? It sounds like their relationship has shifted, and Madonna needs Goopy a little more than Goopy needs Madge. Doesn't it sound like that? Granted, Madge is still clinging to relevancy (sort of), and Madge still has a career as a pop icon, but what Madge really wants is relevancy. Relevancy in Hollywood, relevancy in music, et cetera. So she's all, "Hey, Gwyneth, make this video with me, and we can write a book together, it will be awesome." And Gwyneth is like, "Actually, I have a part in a real movie, sorry Madge." And Madge was like, "Don't you know who am I?!?"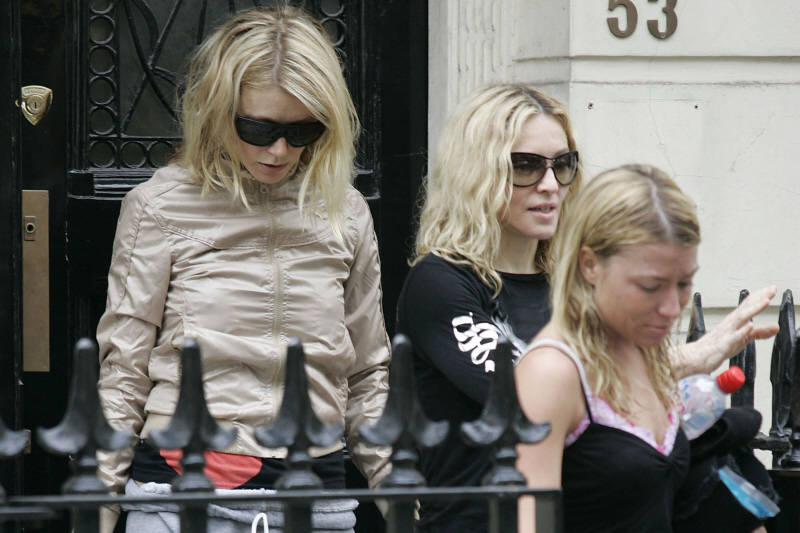 Gwyneth & Madge with Tracy Anderson in April & June 2008. Credit: WENN & INF.