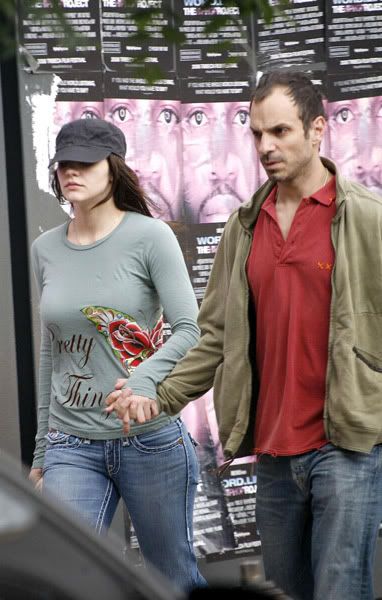 American Idol runner up Katherine McPhee, 22, is dating 41 year-old Nick Cokas. Cokas is a broadway performer and met McPhee when they were performing in the musical "The Ghost and Mrs. Muir" in Hollywood from May – July, 2006.
It wasn't easy to dig up information on Cokas. He's the co-founder of Zenith film group, which produced a play called "Red Herring" for the NY Fringe Festival this year. He was also in the cast of "Mamma Mia!" in Las Vegas.
You might call Cokas McPhee's sugar daddy since he's so much older, but it's doubtful that he's loaded. People suggest that Cokas bankrolled McPhee's Louis Vuitton luggage set, but how much money can the guy have if he's a broadway actor? His production company doesn't have a lot of work to their credit as far as I can find. Maybe his business ventures are more profitable than I can assess through Google.
He dresses pretty normal and his watch doesn't look expensive from these low-res photos. They probably have a lot in common and enjoy each other's company.
Here are McPhee and Cokas in NY this weekend. Pictures [via] and [via]