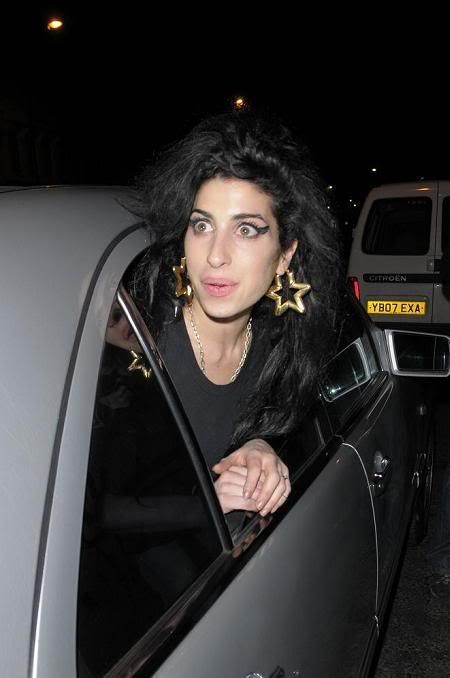 I think we can officially give up the "Amy Winehouse may still be working on getting better" angle. The girl has definitely fallen off the wagon – though it's not possible to know if she was ever really on it. Though she's spent a good deal of time with her "sober companion" Blake Wood (or Good Blake as he's known) clearly Blake's influence hasn't rubbed off on Amy – or perhaps she's knock him off the wagon, who knows. Amy went out with a group of friends including Tyler James, Kelly Osbourne, Mark Ronson and Kimberly Stewart on Wednesday. When they got to Bungalow 8, someone sent the group 20 shots (thanks, whoever you are, for being part of the downfall). Amy then proceeded to light her shot on fire and snort it.
Amy Winehouse's latest party trick is snorting vodka. The troubled singer – who checked out of a London rehab clinic last month – shocked onlookers when she nasally inhaled the potent spirit through a straw

A source said: "Somebody had brought over 20 shots to Amy's table and she decided to show off her new party trick. "She necked the top of the shot and lit the rest with a lighter. Then she grabbed a straw and sucked what was left up her nose. Amy threw back her head and reeled in shock and everyone around her looked stunned."
[From Music News]
Amy's little trick is a version of what's called a Gas Chamber. According to my extensive internet research, it involves one part vodka and one part Black Sambuca, each poured into a separate glass. You light the vodka with a match and put the other glass on top of it to create a "chamber," making sure not to extinguish the flame. After a bit of the alcohol has burned off, a straw is placed between the glasses and you drink, continuing to suck the "gas" out of the "chamber" once the liquid is gone. It's considered a pretty extreme way to take a shot, and that's assuming a person is getting it through their mouth, not their nose like Amy did. It can easily be absorbed directly into the bloodstream. I'm thinking that between the impetigo/cigarette burn/Staph Aureus (who the hell really knows what it is at this point), the multiple severe addictions, the overdoses, and the husband in jail, the last thing Amy Winehouse needs is more alcohol chilling in her bloodstream. Considering the craziness of her lifestyle, you really can't help but wonder how much longer she can go on like this.
Here's Amy with Tyler James on Wednesday night. Images thanks to Splash .