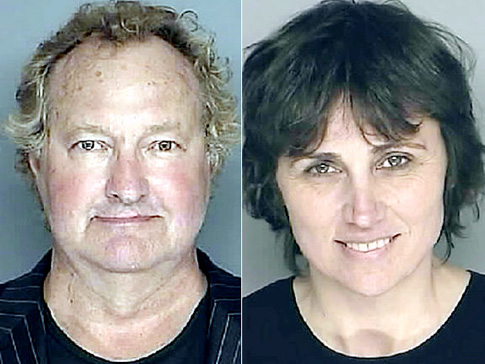 Crazy couple Randy and Evi Quaid were outfitted with pretty pink handcuffs and sent to jail yesterday when they finally showed up to court. (Some amusing photos are here and here.) The wacky duo had missed two scheduled court appearances earlier this month pertaining to felony charges for skipping out on a $10,000 hotel bill. Prior to yesterday, the last time the Quaids saw fit to show up to court Evi came with Randy's Golden Globe in hand. The judge didn't take kindly to that, or to their other multiple no-shows, and sent them to jail, where they were released after a few hours, having met their $100,000 bail. This drama isn't over yet – Randi and Evi are scheduled for yet another court appearance today.
The eccentric couple were sent to jail Monday by Superior Court Judge Frank Ochoa for missing multiple hearings in their felony case. They had been wanted as fugitives.

"They came to court this morning hoping that Judge Ochoa would forgive them for not showing up a couple weeks ago, but the judge said they showed disrespect by prior failures to appear and by flashing Randy's Golden Globe award in court the last time around," Santa Barbara District Attorney Arnie Tolks said, referring to the couple bringing to a hearing Randy's best-actor trophy for the 1988 miniseries LBJ: The Early Years. "They both apologized to the court, but the judge obviously didn't take it lightly."
[From People]
These two are still facing sentencing for the crime, and although they've since paid back the bill they may have to do more than just community service considering all the antics they've pulled.
The mugshots have come out from Randy and Evi's arrest in February, 2009, and while they're not as bad as their mugshots taken in Texas they still look as crazy as can be. There's something eerily similar in their faces, too, like they're related and are on the same medication that makes them delusionally happy. You know that Evi is going to pull some kind of stunt to earn more headlines before this is over. This is the most press they've received in years.