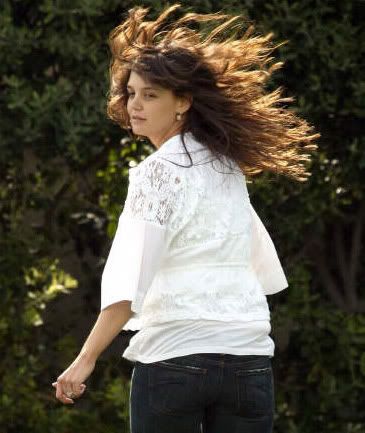 There's a report in Life and Style that Tom Cruise is upsetting Katie by putting baby Suri on a "Baby Einstein" regimen geared toward helping the newborn infant become a genius. "Baby Einstein" is based on psuedo science and isn't effective, but Tom Cruise believes that vitamins can cure depression so it's understandable that he would fall for their marketing.
What's most telling about the article is the fact that Tom is dictating the care of the baby and Katie's time with Suri is limited:
The friend also tells the magazine the battle has spread to the infant's toys which reportedly have now been shoved into a corner to make room for pile of the "genius" toys.
The friend also details – according to the report – that Katie believes this may be pushing the two-month old infant too far and Tom may be expecting too much.
"Just when Katie thought things were settling down, now she has to deal with flashcards and DVDs," the friend tells L&S.
"Her quiet time with Suri has been reduced to only a brief period before bedtime."
Babies learn by interacting with others. "Baby Einstein" offers a decent collection of DVDs to pop in if you need to take a shower or get a break from your baby, but they are not educational, according to most experts. Poor Suri and Katie need to spend time together playing and relaxing, but if this is true Tom is imposing his manic over-the-top expectations on his tiny newborn.
This may be made up, though. People seem to like to invent stories that make Tom seem like the Napoleon character he comes off as in interviews.
Suri may be made up too. We haven't seen pictures of her yet, and the paparazzi hasn't managed to score a single candid – even far-off – of the newborn. Katie Holmes was said to have brought Suri to Ohio with her to visit her family. If that's true, she must have brought the Scientology security force along too, because resourceful photographers didn't get a single snap. We've already seen Kingston Rossdale wrapped up leaving the hospital, and Shiloh's pictures are coming out in People soon. What the hell is going on with Suri?
Our readers think the Scientologists are holding back pictures and media coverage of the little one due to their arbitraty belief system, and that may be true. No Scientologist "friends" of Cruise, like Kirstie Alley, John Travolta or Kelly Preston have visited the newborn or vouched for her existence. We just wonder if she's real.