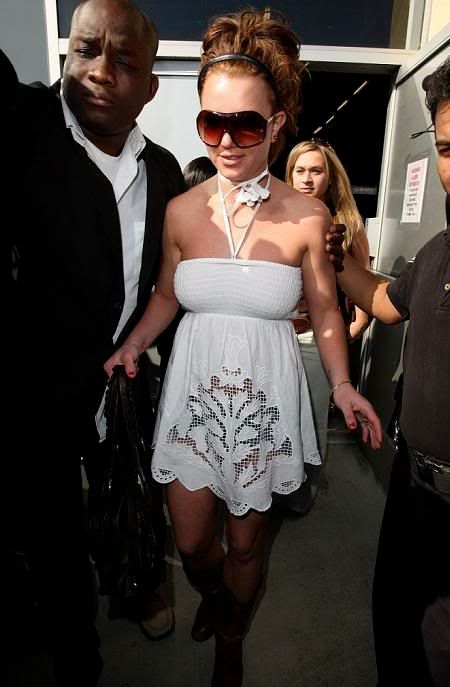 OK Magazine claims to have an exclusive on what life is like for Britney Spears when she's cooped up inside her 7,400 square foot, $7.2 million home. Yeah I know what you're thinking, "Man, I'd commit just about any crime to be locked down in a place like that." Me too. Until I read some of the creepy details. Things aren't really weird there because of any rules or restrictions father/conservator Jamie Spears has forced upon Britney – it seems instead that any creepiness is of her own making. Like a long counter for her wigs. And she has bizarre ways of filling up her time – namely trying on clothes over and over again. I wonder if anyone's ever suggested something as novel and controversial as reading a book?
Now, a typical day with Britney includes spending hours alone in her bedroom, which a frequent visitor to the home tells OK! is "like a princess' room with several walk-in closets and a spa tub, plus a long counter where she used to keep all her wigs."

…and since she's no longer allowed to go out, the pop star now spends hours in front of the mirror trying on different outfits. "Changing clothes all day long must seem harmless enough, so her dad doesn't interfere with that," a friend of Britney explains to OK!. "She'll change three or four times on days when she's not leaving the house." Some of those clothes include "fat clothes" that Britney likes to wear when she's feeling bloated or out of shape. Friends say the singer keeps a secret closet stocked with these loose-fitting garments for just these occasions.

An even bigger surprise inside the house — a shrine to ex boyfriend, Justin Timberlake! Sources tell OK! that few people have seen Brit's collection of private mementos from her years with the pop superstar. "She's obsessed with him," the source reveals. "She has pictures of them together and has devoted a private area just to celebrate him."
[From OK Magazine]
Britney's life still sounds pretty bizarre, if not dangerous. This is probably just me, but a countertop full of wigs would freak me out a little. Let's not get too nit-picky here – even if the wigs aren't there anymore, the fact remains that she used to have a counter where she kept a bunch of wigs. I'm imagining them on those creepy, faceless Styrofoam heads. Or maybe some empty, vapid looking heads. Wait, no that's Britney, never mind. The "Frequent visitor" (I would really love to know if that means friend/family/or maid) says the most surprising thing about Britney's home is that she actually keeps it very clean and clutter-free. I'm assuming it's because she pays someone to do that, but that's still saying something. She could have paid someone to be her PR rep or paid someone to help her dial down the crazy and keep an extra pair of shoes in their bag so Brit didn't walk into bathrooms barefoot, but she didn't. So to me, still paying for a housekeeper is a pretty big step. I already knew about the shrine thing though – I think we all did – we just thought it was of Chester Cheeto.
Here's Britney going shoe shopping at Off Broadway Shoe Warehouse on Sunset Boulevard – and then climbing into her car and flashing her underwear on March 8th. Images thanks to WENN.