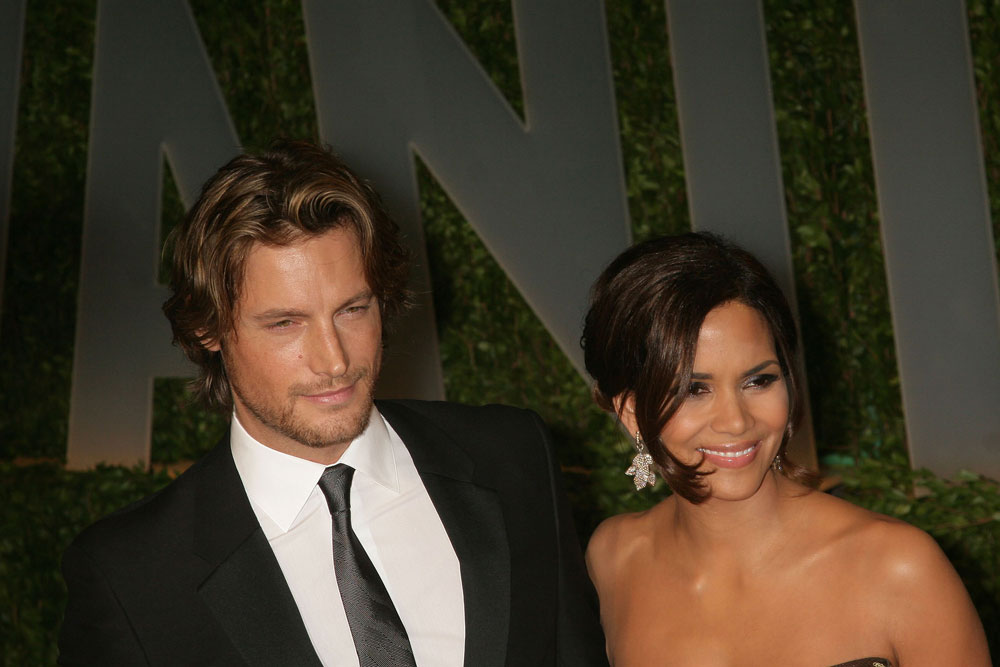 Oh no! Radar is reporting (and many other sources are picking it up as well) that Halle Berry and Gabriel Aubry has split after five years together. The couple are parents to baby/toddler Nahla, who turned two in March. The reason for the split, according to Radar? The age difference began to bother Gabriel – Halle is 9 years older than him. I think that's a bullsh-t excuse, but whatever. Maybe he really does feel that way, but I doubt that's "the reason" they split. In any case, it sounds like they are both handling the breakup with a lot of maturity:
Beautiful Halle Berry is a three time loser in love, RadarOnline.com has exclusively learned. With two failed marriages behind her, it seemed Halle had finally found her soul mate in Canadian model Gabriel Aubry. The couple even had a child together, adorable daughter Nahla Ariela Aubry, who was born March 16th 2008.

But RadarOnline.com has learned that Halle and Gabriel have called it quits and worked out a financial and custody deal. They spent months hammering out a deal with a lawyer, RadarOnline.com learned.

A source close to the situation tells RadarOnline.com that Gabriel was the one who pulled the plug on their five year relationship and that the age difference – he's 34, she's 43 – played a role.

"Gabriel just felt it wasn't working anymore," the source says. "When they were first together the 9-year age difference between them didn't phase him, she was the most beautiful woman he had ever dated and he was totally in love.

"But as time went on he started feeling it more and more.

"Also, Gabriel started noticing other women, and being attracted to other, and he felt it just wasn't right to stay with Halle in those circumstances.

"Gabriel is a really nice, decent guy and he would never cheat on her, but I suspect that he had become attracted to someone and that he felt he needed to break it off with Halle before anything developed any further."

It's the latest in a series of emotional letdowns for Halle. Her first marriage, to David Justice, a former baseball player, ended acrimoniously after 5 years amid accusations from Berry of domestic abuse.

Halle's second marriage, to R & B singer Eric Benet ended after four years when Halle discovered Eric had cheated on her. Benet went into treatment for sex addiction but Halle filed for divorce.

Halle publicly declared she was over marrying again, and when she met Aubry she stated that her "life was already complete without the need for a marriage."

The source says that Gabriel and Halle quietly split a couple of months back, with Halle employing the services of Judy Bogen, a family law attorney from top Beverly Hills law firm, Hersch Mannis and Bogen, to iron out a custody and division of property agreement.

"Halle was terrified that Gabriel would go after her money," the source says. "But he's a decent and proud guy and that's just not his style.

"Gabriel's main concern was custody of Nahla, he loves that little girl more than anything, and wanted 50/50 joint physical custody of her, which Halle agreed to.

"Financially, Gabriel isn't in the league of Halle, but he still earns a decent amount from his modeling career, in the region of $700,000 per year, so he's comfortable and he didn't want a dime from Halle.

"All Gabriel has asked for is the house they own together in Canada. Halle put the full deposit down on the house but Gabriel has made every one of the payments since. Halle agreed right away."

"As much as it can be it's been an amicable split. They both traveled a lot for work anyway, so they were used to spending time apart for long periods, but I think Halle has taken it pretty badly, she truly loved Gabriel and thought she had found the one."
[From Radar]
I doubt Halle was "terrified" Gabriel would go after her money too. They seem to have kept everything separate and compartmentalized, and they weren't married, so how could he "go after her money"? Plus, he really doesn't seem like that guy. And it sounds like neither of them have a problem with the other's parenting skills – and to their credit, both seem like very loving, hands-on parents, so why not 50-50 joint custody? Sounds good to me, but we'll see how everything shakes out. My guess is that Halle will land on her feet – and I also think there will be a line of dudes waiting to be her next boyfriend.
Gabriel is very Josh Holloway, isn't he? I've never noticed that before.