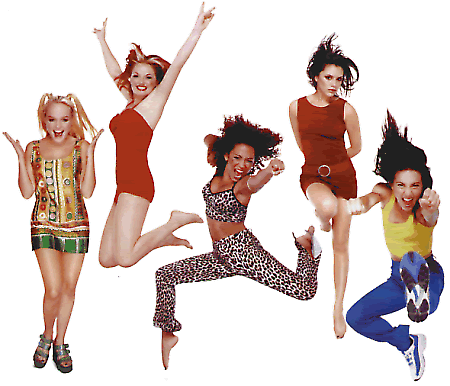 There's been a lot of talk about a Spice Girls reunion. Last we heard it wasn't happening because the most successful former Spice Girl, Melanie C aka "Sporty," was holding out since she actually has a music career and this could harm it. Now they're said to be releasing a new single and planning a tour:
The Spice Girls are reportedly releasing a new single to mark the 10th anniversary of their first hit.
The former girl group – Posh Spice Victoria Beckham, Ginger Spice Geri Halliwell, Sporty Spice Mel C, Scary Spice Mel B and Baby Spice Emma Bunton – have already recorded the track, named 'Woman'.
They are reportedly releasing the song in July, to mark ten years since their debut, 'Wannabe', reached the number one spot in the UK.
The girls are also said to be planning a reunion tour – and may even release more new material if 'Woman' is a hit.
A source told Britain's News of the World newspaper: "They are planning their tour but wanted a new song to mark their return. If it goes well they'll look to release more material."
If that's true it's good news for new mom Geri Halliwell. She's been begging her friends for a place to stay in the countryside with her newborn, Bluebell Madonna. She says she can't afford her own house, but Hello! magazine reportedly paid her six figures for the first photoshoot with her newborn.
Update:: Reader Margarita points out that the single "Woman" is from 2000, meaning this news is old and not true. They were said to be talks for a reunion tour, but it was a no-go due to Sporty's reluctance to join the project.