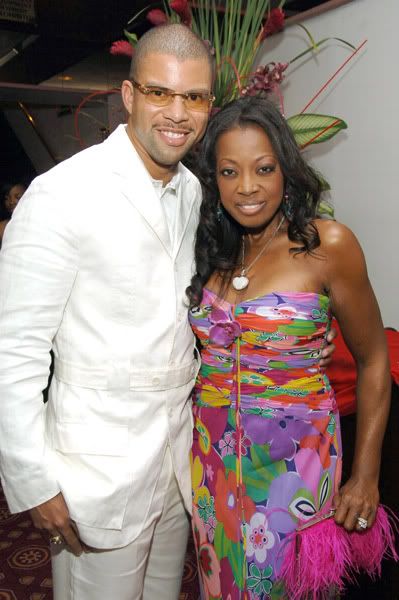 Sources are buzzing that Star Jones and her "is-he-or-isn't-he-gay" husband Al Reynolds are heading for divorce court. So far, the couple's press rep is denying the reports, but The National Enquirer says otherwise. It's hard to tell with The Enquirer. Sometimes they make up ridiculous stories, and sometimes they're dead on. It's also hard to tell with Star Jones and her husband- breakup rumors have dogged them since the very beginning, even before their over-the-top nuptials.
Nearly three and half years after they swapped "I dos" at their corporate-sponsored wedding, Star Jones and Al Reynolds are calling it quits. The National Enquirer reports the legal diva sent Al his walking papers a month ago.

A rep for Jones says the report is false, but the Enquirer goes on to say, "They hadn't been seeing eye to eye for months and had already spent a great deal of time apart," a friend of the couple told the Enquirer. "Finally, Star decided it was over. She told Al at the end of January that he had 30 days to get his act together or 'get out.'"

The pair made one last public appearance at the Feb. 1 Baby Phat fashion show in New York City, but everything fell apart days later. That prompted Star to show Al the door ahead of schedule, the source said. "Al moved some of his things out of their Upper East Side apartment and returned to Miami, where he'd already been spending a lot of time recently."

The Enquirer spoke to another insider who confirmed the breakup and revealed Star's intention to make it permanent. "Star is planning to divorce Al." As for reason behind the split, the source added, "I think Star felt Al had spent their marriage riding her success while she did all the heavy lifting. She resented it. Deep down, Star is a very old-fashioned woman who believes a man should support her emotionally, physically and financially. She now believes Al failed her."
Translation: Star felt Al had spent their marriage riding other men while she had gastric bypass and plastic surgery in a desperate attempt to make him love her. Poor Star- if she had just invested in that sex change operation, the couple would be happier than ever!
Star has been having a rough time of it lately. Her new show on Court TV got canned, The View is more controversial than ever without her, and now it looks like her marriage is over. She is annoying, but she doesn't deserve all that. Does she?
Header image is an older one of Al and Star in 2006.