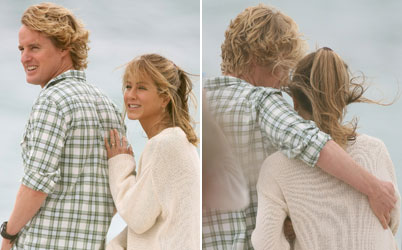 Every time Jennifer Aniston makes a new movie, the tabloids fall all over themselves, rushing to link her with whatever male lead she is working with. And when she's not making a movie, Jennifer is rumored to be madly in love with someone new every week. Since Christmas alone, she's been linked to Jason Lewis, Orlando Bloom, and a grip from her new movie "Traveling." Oh, and somewhere in there she was supposedly hooking up with ex Vince Vaughn, too. Now, Star Magazine claims that Jennifer and her "Marley and Me" co-star Owen Wilson are having fun together- on and off the set.
Step aside, Kate Hudson!

According to a Star source, Owen Wilson has been cozying up to Jennifer Aniston in Miami, where they're currently playing husband and wife on the set of the upcoming film Marley and Me.

"The hugging didn't end when the cameras stopped rolling," one crew member tells Star. "They were very flirty together, far more than you would expect. In between takes they were hanging onto each other. They are very friendly."

Before they even started filming, Owen and Jen started bonding. Back in October, Star reported that they were speaking regularly by phone and Jen sent Owen some of her favorite books, including The Power of Now. At the time a source close to the actress said, "Owen has come to rely on Jen's phone calls."

Now, by all accounts, Jen and Owen, both 39, are having the time of their lives working and hanging out together.

"Jen wasn't looking forward to it at first because she was worried about working with Owen, but he has turned out to be a real surprise," an L.A. friend tells Star. "She's finding out that he's a terrific guy who's fun to be around."

Marley & Me, based on John Grogan's memoir about his beloved Labrador retriever, is Owen's first major role since his suicide attempt last August.

And it looks like his chemistry with Jen was instantaneous! "Jen is known for being a recluse on set," says the friend. "But she's having so much fun hanging out with Owen. She's just really relaxed and happy, which is nice to see."
I don't believe this story for a second, and here's why: The photos that go with the story of Jennifer and Owen hugging and smiling together are obviously stills from the movie shoot, in which they play a couple who owns a precocious dog. Of course they're supposed to look like a couple- that's what they're getting paid to do in the movie! Now, if Star had coughed up candid photos of Jen and Owen snugging in a cafe, that would be a different story.
If I were Jennifer, I'd get pretty sick of all these stories about my love life. But who knows? Maybe she likes all these stories. It's better than stories about a poor, heartsick Jen still pining away for Brad Pitt and the babies they'll never have.