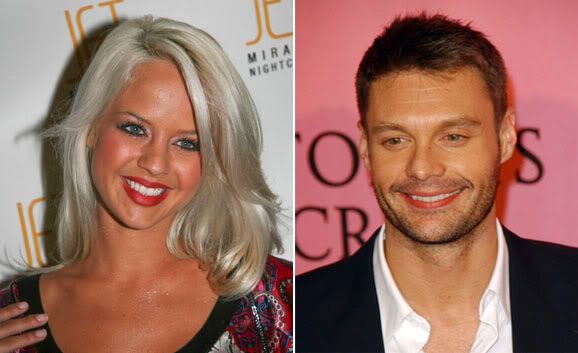 The open animosity between "American Idol" co-stars Ryan Seacrest and Simon Cowell every week on the show suddenly makes a lot more sense. I have been speculating for years that these two had an under the radar romance going on, and now that word is out that Ryan is dating Holly Huddleston, Simon's feelings are hurt.
Who the hell is Holly Huddleston, you say? Yeah, I said the same thing. Holly is on one of the world's most useless reality shows, E! Network's "Sunset Tan." If you've been dying to see all the drama and behind the scenes action at a tanning salon, this is your show! And also, take your meds. The rest of us find this show absolutely abysmal– and Holly is the most vapid, boring person on the show.
Is there love a brewing backstage with Holly "Olly" Huddleston and Ryan Seacrest over in Hollywood at American idol? According to reports scheduled for this week's In Touch Weekly, the magazine will dish that a little E! Entertainment romance may have crossed over from cable show to the Fox network and Ryan Seacrest and one of the blondes from E!'s Sunset Tan are hooking up in secret.

According to a report from Perez Hilton, Holly Huddleston and Ryan will make the weekly entertainment magazine this week with what will be a surprise romance for many. The scoop according to the report is that they have worked very hard to keep the relationship a secret.

Quick question, why would anyone even worry about it? The reason it is spilling out now is because American idol is so popular and folks have notoced that Holly has been hanging around backstage, reportedly checking out Ryan as he works and spars with his pal and British bad boy judge Simon Cowell.

While many might believe Cowell and Seacrest are dating before they would believe that Holly and Ryan are a hot item that is the way it will be reported according to Hilton.
There's no way Seacrest is dating this chick, but I'd be willing to bet that they are friends. They have so much in common: they both love tanning, bleaching their hair, getting manicures and pedicures, and staring at their own reflection. She really is the perfect beard for Ryan.
Ryan Seacrest is shown at the Victoria's Secret fashion show on 11/15/07. Holly Huddleston is shown at JET Nightclub on 7/27/07, thanks to PRPhotos.