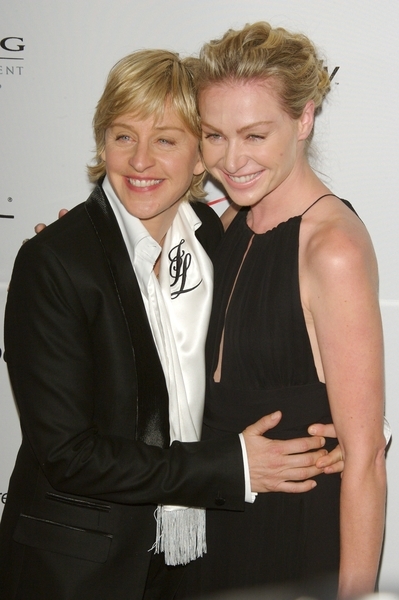 I love Ellen Degeneres– she makes me laugh daily on her talk show, and occasionally she makes me think. And that is not an easy thing to do at 9 o'clock in the morning.
This morning, Ellen played a taped recording of Oklahoma State Rep. Sally Kern speaking at an event. In her speech, Ms. Kern, who is leading a charge to ban tolerance of homosexuality in public schools, stated that homosexuality is "more dangerous to this country than terrorism or Islam," and that "studies show that no society that has totally embraced homosexuality has lasted more than a few decades." Ellen looked stunned, as did her studio audience. Ellen then decided to call Rep. Sally Kern, to "inform her." "I'm really interested in hearing about these societies that have disappeared that we don't know about," Ellen quipped while dialing. When she got through the line, she got a voice mail greeting saying that Sally Kern's inbox was full and nobody could leave anymore messages. The studio audience laughed big time at that. So Ellen decided to leave her a message on the show, "Just in case Sally is watching." Here's what she said:
Hi, Sally, this is Ellen. The gay one. And I would like to leave a message. I just want to talk to you based on some things you said. I'd like to clear some things up for you. So give me a call– I'm usually here, but later on I'll be at the Dinah Shore Golf Tournament, of course. That's if it doesn't conflict with the women's basketball games I go to. Oh, Sally, Sally Sally."
[Transcribed from Ellen's show, broadcast March 12, 2008]
You can listen to Sally Kern's full speech on youtube. I am still wondering how a person like this can get elected to represent anything, but then again, I live in a more progressive area of the country and keep forgetting that there are areas of the country that may not feel the same.
You can visit Rep. Sally Kern's webpage. Her office's phone number is listed on the page, but since her inbox is probably full of messages telling her to STFU, you should probably e-mail her. I did.