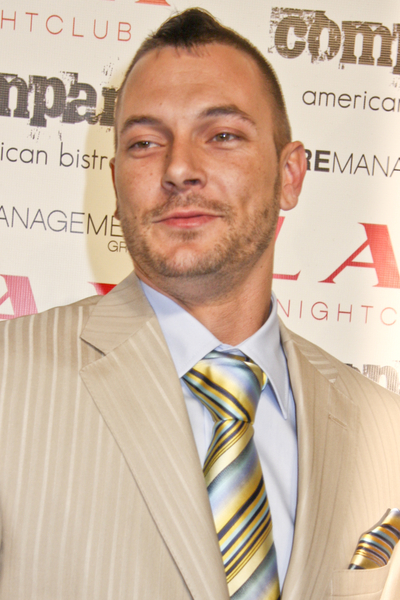 This story nearly made me cry. As Broadway producers struggle to make their productions more relevant (read: profitable), hiring movie stars and B-list celebs to star in theatrical shows has become the big new trend. Monty Python's Spamalot has used this trick with great effect, with such people as David Hyde Pierce, Sara Ramirez, and more recently, Clay Aiken. But now, I think Broadway is just going too far. Kevin Federline may take a role in the hit musical "Legally Blonde," a musical version of the hit movie starring Reese Witherspoon.
Curtains for Kevin Federline!

A source says Britney Spears' ex, 30, may be heading to NYC in September to make his Broadway debut in Legally Blonde, the Tony-nominated musical adaptation of the hit film, Us Weekly reports in its latest issue, on newsstands now.

"He's so excited!" a Federline source tells Us.

The former backup dancer and aspiring hip-hop artist — who is hitting the gym after packing on "daddy weight," ex Shar Jackson says — will test his song-and-dance chops in a trio of roles — including the UPS guy who inspires the "bend and snap."

"This is his chance to show the world what he can do," says a pal.

And now that he has physical custody, sons Sean, 2, and Jayden, 18 months, might join him in the Big Apple.

"This is his dream and he wants to bring the kids," says the insider. "Jamie and Lynne [Spears] promised to help him make it work."

(A rep for the show says he is not scheduled "as of this time.")

Federline may not be the only star hitting Broadway: New mom Nicole Richie has been approached to star in Chicago.
After seeing K-Fed douche up the small screen on "One Tree Hill," I really hope this story is somebody's idea of a sick joke. This guy has no business being on a Broadway stage– except maybe to sweep up after the show is over. As someone who is a self-professed theater geek, this is highly distressing. I'm sure there are hundreds of real, trained professional actors currently waiting tables in NYC who are very upset at this news.
Still, it's nice that K-Fed is trying to get work that doesn't involve rapping or beatboxing.