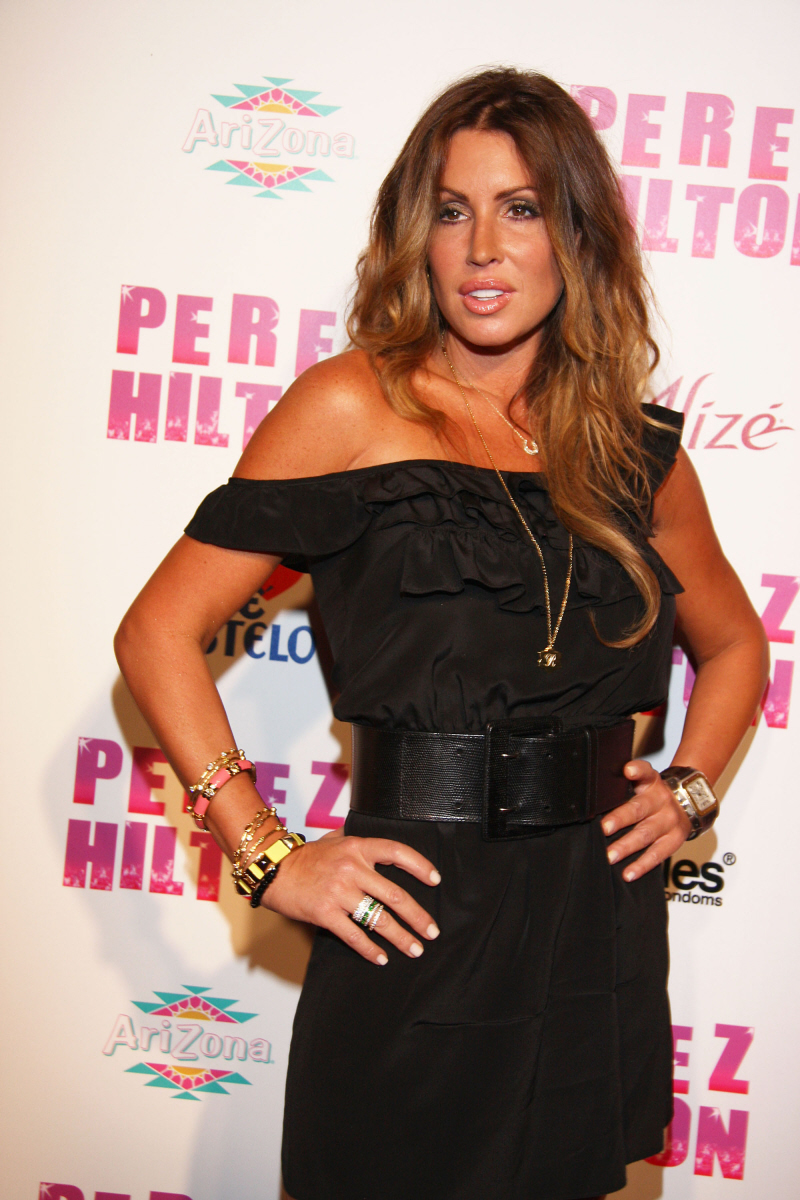 So what we know at this point is that David Boreanaz came out and admitted that he had committed "infidelities" in his marriage, and he was talking about them publicly because one of the hookers he boned was trying to extort money from him. Although we thought at first that the hooker was Rachel Uchitel, who David alleged screwed around with when his wife Jamie was pregnant with their daughter, Gloria Allred told us on Wednesday that although she represents Uchitel-she's-a-hooker, Allred also represents the other, unknown, Mystery Hooker, Hooker McWhorePants. We also know that David is in "sincere pain" since admitting his infidelities. Poor baby. Now for the latest chapters.
Rachel Uchitel released a statement about the Boreanaz situation late Thursday. I guess she can afford to be snotty about the whole situation, considering she's sitting on $10 million from Tiger Woods. Oh, and Rachel is such a woman of integrity now! See how much class $10 million of hooker money buys:
Rachel Uchitel is slamming rumors that she is the other women with whom David Boreanaz had an affair.

In a statement, the former NYC club hostess, 34 — the first woman to be romantically linked to Tiger Woods — tells UsMagazine.com:

"David Boreanaz is not part of my life, nor will he be. I am not in communication with him and do not wish to be. I have made no claims against him and do not plan to assert any. Any statements to the contrary are false and I hope that this statement will finally end any speculation about this issue. I am looking forward to a life that is not filled with scandal, rumor, innuendo or false statements about me. I will not have any further comment regarding David Boreanaz."
[From Us Weekly]
Oh la la! So classy. Meanwhile, David's wife Jamie released her statement to People Magazine about the situation. I'm really glad she's not playing "Stand By Your Man" – she actually seems very real, and like she dealing with some difficult stuff:
David Boreanaz's wife, Jaime Bergman, is willing to try to repair their marriage after learning that her husband of nearly nine years was unfaithful – but it's a rough road.

"I'm not saying everything's okay," says Bergman, 34. "I'm still angry. I'm still mad. I am still hurt. "

The couple, who are parents to, Jaden 8, and Bella, 8 months, have been working through their issues for the past year with the help of therapy.

"It took a crisis, it took infidelity to get us off our asses and work for what we want," admits Bergman. "We do the best we can. That's all we can do."

Boreanaz has taken responsibility for his actions and says he hopes the couple can recover the strong relationship they once had. "When we got married we had an unbelievable foundation that we've never forgotten," the actor, 40, says. "But it's been damaged."

Their future may be unknown but both are committed to moving forward – slowly – now that the past secrets are on the table. "What's working for us [is] taking our time," says Bergman, "moment to moment, day to day."
[From People]
You know what would help Jamie? A big fat "I'm sorry I cheated" diamond ring. And then you can get her some "I'm sorry about that hooker" diamond earrings, and after that, perhaps a "I'll put my dick in a lockbox and you're the only one with the key" pearl necklace.
Meanwhile, Jamie's mom, Sue Scallion, is also chiming in for some reason. Sue goes a little overboard, honestly, telling E! News:
"My daughter's very strong. Jaime told me one day, 'Divorce just isn't an option.' She can get the big picture. They are going to make this work and keep the family together and raise the children. They're a great family. Jamie can see what would happen to the children and the family if they let something like this get a hold of them. They're not going to give in to it… David told her finally. David admitted that he got caught up in this other person. Jaime and David, they've got a lot of work to do. But they love each other. They are appalled by these women. I think they want to take a stand against this and say, 'You don't have the right to do this.' In my opinion, I think there should be some recourse for them to be able to get back at these people. These women are making a living off the misery of these families. They're like serial killers, killing families. It's not just the spouse that gets involved with another person, the impact goes through the whole family and there's just devastation. For them to have no recourse but to pay these large sums of money just because they have it is ridiculous."
[Sue Scallion's statement, via E! News]
Jeez, Mom. Save some of the blame for the dude who chose to put his wang in all of these hookers. Can I just say, my mother would be nothing like this. If I ever went to my mom and was like "Mom, not only is he cheating on me, but his hooker is trying to extort us" my mom would be like "I'll cut his wang off with a butter knife, and then I'll start in with the hooker."
Header: Rachel Uchitel on March 27, 2010. Credit: WENN.